Restoring Our Earth Through Locally-led Development 
"Restore Our Earth" is the theme for Earth Day 2021. To "restore" is to repair, rebuild, or renew. These words, emotions, and actions are front of mind for the entire global community these days. At Nuru, we believe that local communities and their local economies are the best places to cultivate lasting meaningful choices. These are choices that can build resilience to climate change and restore local environments. To do this, we orient our actions, the Nuru Model, around five dimensions of community climate resilience: 
regenerative agriculture, 

increased incomes and financial inclusion, 

food and nutrition security, 

agribusiness professionalism,

and community-based dialogues. 
This community climate resilience strategy is inherently locally-led. Additionally, it is locally adapted by the collective efforts of Nuru local NGOs and farmer-led businesses. 
What climate resilience looks like for farmers
Tadelech Yaya, a Nuru farmer in Ethiopia since 2017, has benefited from these climate-smart actions. Prior to joining Nuru, Tadelech's family faced food shortages and continuously struggled to find enough forage to feed the cattle and ruminants they were tending. It was financially difficult for Tadelech to send her children to school. The family could not access formal financial institutions due to their lack of credit. Moreover, the 2016-17 El Niño-induced drought left her household with increased food insecurity and a sense of hopelessness.
Hope was renewed through her Nuru-supported cooperative (a rapidly professionalizing agribusiness), because Tadelech was able to take out a loan, pay it back, and access another loan to improve her on-farm management. Improvements included the adoption of contour farming, perennial grasses for animal fodder, and crop rotations. She did all of this while further expanding the number of farm animals on her property. Tadelech now owns her own cow and two goats that can help to feed her family both directly and through the extra income they attract from local markets. 
The role of farmers in restoring the earth
Tadelech is now able to care for her livestock and feed her family more diverse foods. Additionally, her farm, homestead, and livelihood are more resilient to weather-related shocks. Her soils are being restored by more diverse plant and animal species and less soil erosion. It is also exciting to see that Tadelech is able to dream about and plan for her family's future with the extra income and savings she has generated. Her plans and meaningful choices are sustained by her Nuru-supported cooperative and Hidota Union Cooperative. Hidota Union Cooperative is an apex institution that convenes members like Tadelech from primary cooperatives. Hidota elevates the needs of farmer members, negotiates with the private sector and government actors, and builds inter-community trust between diverse groups. Because of the cooperative union, Tadelech and farmers like her are heard and given a voice in situations that would have otherwise left her without one. By having an institution like this, farmers can act in coordination with the needs of other members and not be stuck acting in isolation.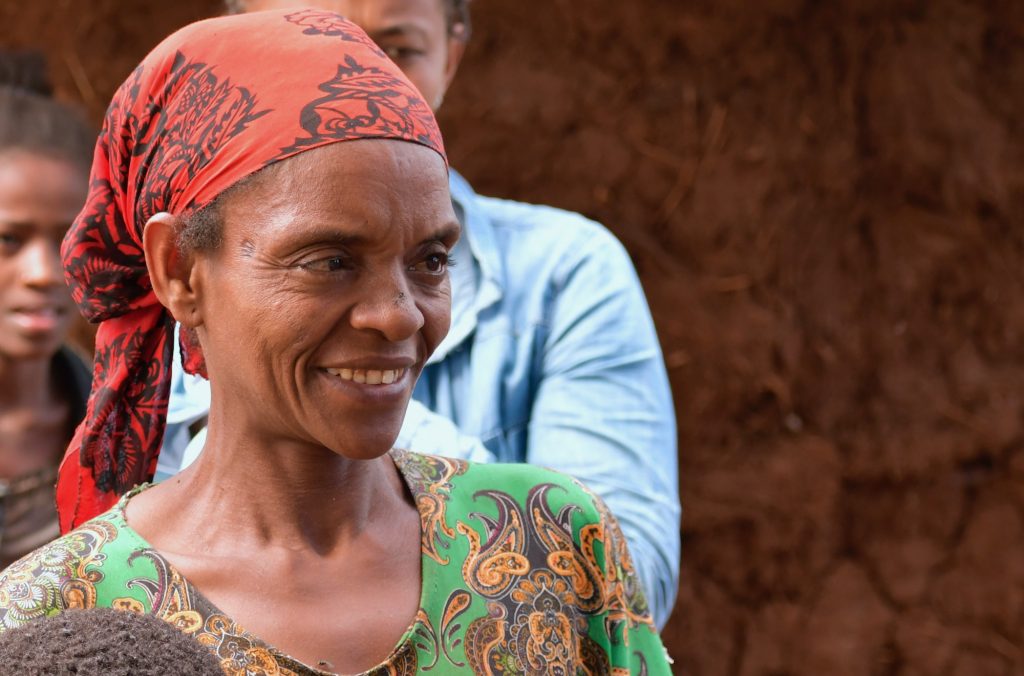 Developing community climate resilience in the rural communities where Nuru works begins with building the adaptive capacity of farmers and their local institutions. When farmers like Tadelech can make meaningful choices that are supported by trusted information, tools, and finance, they will be prepared to lead the restoration of our earth and its diverse landscapes. Members of a flourishing and renewed local economy are incentivized by proximity and stewardship to "conserve all the goods of a place, including the membership of its living creatures."* By increasing community climate resilience, Nuru farmers can help us all restore our earth. 
Nuru is expanding these lasting meaningful choices into the toughest places to work. These are places where conflict is further marginalizing farmers and climate change is exacerbating the root causes of those conflicts. Please, contact us to learn more. 
*Wendell Berry, The Art of Loading Brush: New Agrarian Writings. 2017.
About Casey Harrison
Livelihoods & Agribusiness Director — Casey was born and raised on a farm in rural Maryland, and has worked at the nexus of smallholder farming in Africa and natural resource management since 2009. Prior to Nuru, he contributed as a Peace Corps Volunteer in Zambia where he served as an agricultural extension agent, and worked with World Wildlife Fund (WWF) on mitigating the negative environmental and social impacts of agricultural production and value chains with a focus on East and Southern Africa. He has completed a dual MA in Natural Resource Management and International Affairs from American University in Washington DC and the University for Peace in Costa Rica, and in his free time, Casey enjoys traveling, backpacking, biking, and live music of all kinds.
Read More Stories of Hope