The effects of El Niño in East Africa
El Niño, warmer than average waters in the Pacific Ocean, affects global weather and climate. Winter is warmer in the northern US and drier in the Midwest, while the southern US will experience cooler and wetter weather. A parched California is projected to receive large amounts of rainfall, although any precipitation is likely to have both positive and negative effects across the state. Central and South America, Southeast Asia and Australia are projected to see drier than normal conditions from October to March. East Africa experienced dry conditions earlier in the year due to El Niño and could experience excess rainfall and flooding from October to December. Southern Africa has already been impacted by dry weather in 2015 and will likely continue to experience drier than normal conditions for the rest of the year.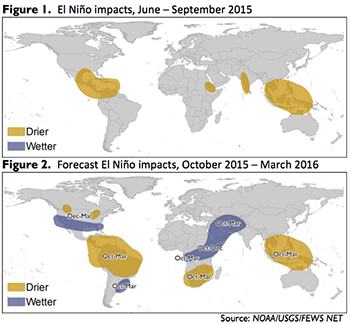 The impact of weather shifts in seemingly far-flung places on the Earth has complex and varied impacts on food prices and economies. It can reduce the supply of agricultural commodities and output, limit certain economic activity, drive inflation, and may trigger social unrest in poor countries due to disruptions of food supply and production. In the world's most vulnerable countries – those with substantial populations experiencing extreme poverty – the consequences of El Niño can disrupt already fragile circumstances.
I strongly believe that a multi-disciplinary approach is the only way to bring about change with the world's most challenging problems—and particularly on extreme poverty. With training in political science, economics, agriculture, forestry and meteorology, I keep a close eye to elections, politics, markets and world weather on a regular basis. It is with this lens that I look towards how El Niño has and will affect East Africa this year.
El Niño is the warm phase, and La Niña is the cold phase, of the El Niño Southern Oscillation (ENSO). El Niño, warmer than average sea surface temperatures in the Pacific, results in complex interaction between the ocean and atmosphere. This impacts global weather and climate. El Niño occurs cyclically. Understanding medium term climate cycles, like El Niño, means we can better predict and prepare for these events in the future.
There are a couple major effects of El Niño on East Africa. 1) Drought or unseasonable dryness due to depressed rainfall in July to September in Ethiopia. 2) Flooding or rain-induced crop damaged due to strengthened rainfall from October to December across the Horn of Africa. These floods have failed to materialize so far in October, but the region continues to be prepared.
Major drought and flood events in East Africa of recent decades have been linked to ENSO events of El Niño and La Niña. The 2015 El Niño has been observed to be the strongest in decades, even being termed the "Godzilla" El Niño in the press. It is comparable to the strongest events on record, namely the 1982/1983 and 1997/1998 El Niño events.
The effects of El Niño and La Niña have broad-reaching effects on global weather, but they penetrate even further into the global society and economy. In countries like Kenya and Ethiopia, 80% of people are smallholder farmers and often live hand-to-mouth. Setbacks on crop yields, food security and income caused by climate events, like a drought or flood, means economic household recovery may take not days or months, but years. Government, communities and civil society are not yet equipped or resilient to take on the challenge alone. It thus becomes a global imperative to assist.
At Nuru International, our programs are building resilience in communities in order to prevent climate effects and other dramatic events from devastating families, regions and nations. We are vigilantly monitoring this situation and will continue to provide updates as the season progresses.
About Matt Lineal
Chief Program Officer — Matt received his BA in Government and Spanish from Lawrence University and a MS in Forest Sciences from Colorado State University, and began his international service career in rural Honduras, first as a Peace Corps Volunteer and later with The Nature Conservancy. Over several years punctuated by severe challenges for Hondurans, his experiences were eye opening as to how people navigate the complexities of rural life. Matt was drawn to Nuru International in 2011 with the resolve to take on tough challenges and has been humbled and amazed to be part of the transformational impact of local leaders. As Nuru's Chief Program Officer, Matt continues to promote the agency of rural communities as the foundation of meaningful positive change.
Read More Stories of Hope