Smallholder Farming in Africa during the Ongoing COVID-19 Pandemic
Courage is resolve amidst adversity.
This is my reflection as countries of the world pass the one-year mark of COVID-19 entering their borders and infecting their citizens. For much of Sub-Saharan Africa, the spread of COVID-19 turned markets upside down. The pandemic disrupted value chains, and it choked off vital economic flows to countries and communities experiencing different degrees of fragility. The timing could not have been worse for the smallholder farmers that Nuru serves in Kenya, Ethiopia, and Nigeria. They were getting ready to plant.
Farming During a Critical Season
Rain-fed smallholder farming is a courageous act. Farmers face great adversity: there are voracious pests both of the local recurrent variety and the mass outbreaks of locusts and fall armyworm that come from up to thousands of kilometers away. Climate change has driven more variable weather patterns, bringing floods and abnormal dryness, late starts to the rainy season and early tapering off. Then in 2020, COVID-19 came to the African continent and to the communities that Nuru serves.
Our number one priority from the beginning of this pandemic was the health and safety of the communities we serve. This meant that they must get crops in the ground. Without timely planting, farmers would lose a critical source of food security and income. And so Nuru farmers planted. Not out of desperation, but with the hard work, thoughtful planning, and bold action to move forward despite hard times.
Planting crops for the season comes with hundreds of small and big decisions for smallholder farmers. Farming is a risky undertaking. What's more, farming with Nuru means treating farming as a business, investing time and resources to reap the most from their future harvest. The stakes were high last year during the emergence of COVID-19, just as they were high in seasons before that under threat of locusts and fall armyworm, floods and drought.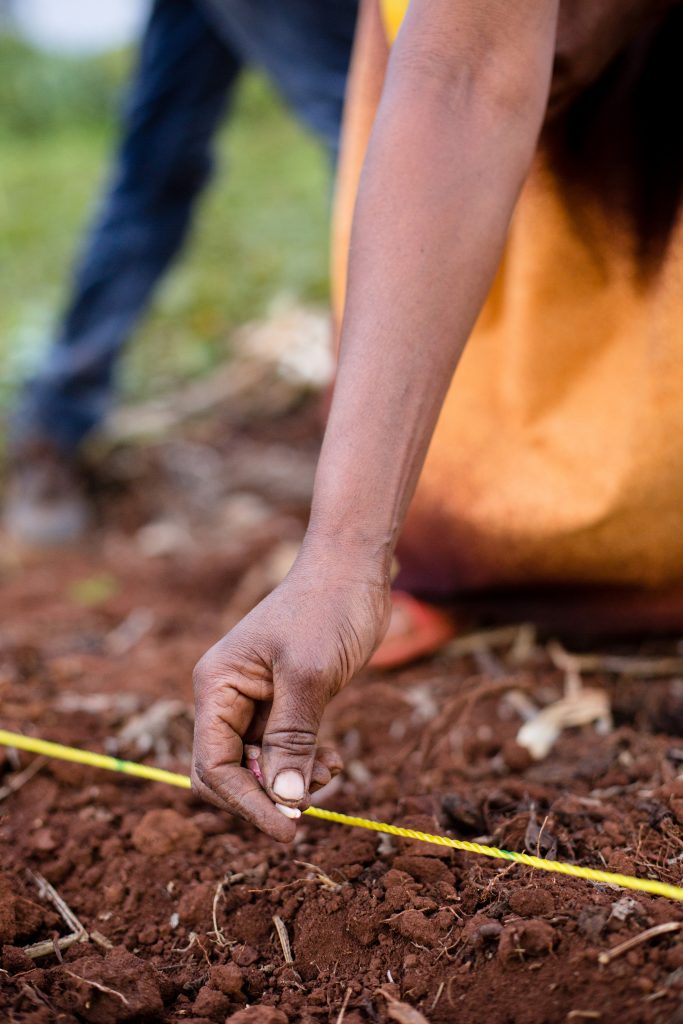 Local Leaders Rise to the Challenge
Nuru's local leadership laid the groundwork to be able to work with farmers in a safe and healthy way, highlighting the importance of locally-led development that is not reliant on an international team. Do no harm – This is the driving principle behind all of Nuru's work. First and foremost, do no harm. This does not mean to take no risks. Turning away from serving smallholder farmers may have meant less risk, but certainly would have caused economic injury to farmers' potential yields and income. As work continued, Nuru Kenya, Nuru Ethiopia, and Nuru Nigeria shifted to remote work to help slow the spread of COVID-19.
Ethiopia – Nuru Ethiopia worked to help the government distribute soap and establish hand-washing stations throughout Nuru's area of operations. These efforts were essential in ensuring the continued health and safety of Nuru farmers, especially as Ethiopia remained under a state of emergency for most of 2020.

Kenya – In Kenya, staff noticed that, as farmers were witnessing food shortages and fluctuating costs in local markets, they were becoming paralyzed as a result of the uncertainty. Particularly early in the COVID-19 pandemic when fears and rumors were running highest, some Nuru farmers contemplated drastic short-term solutions, such as selling off farmlands. Land ownership is a critical asset to their livelihoods, and selling off the land would have meant hunger, lack of income, and possible displacement. Nuru Kenya took to the airwaves with messages of hope and promoting agriculture as a longer-term solution. Through SMS and radio messages, Nuru Kenya reminded farmers of the importance of planting for their livelihoods and food security for their own households and the community at large. Farming, by nature, requires social distancing, and so they continued to look out for their neighbors in the short term by getting back to work on their farms.

Nigeria – Crop package distribution was expected to take place a few short weeks after COVID-19 began to make an impact around the globe. Local leaders in Nigeria had to pivot quickly to safely distribute crop packages to a variety of locations across northeast Nigeria. COVID-19 restrictions coupled with insurgency activity that led to road closures made this effort especially difficult. Crop packages were distributed through a multi-phased, multi-location approach that ensured proper social distancing.

Nuru led the way as one of the only organizations in Adamawa State doing agricultural lending as COVID kicked off during the critical farming season. As a result of the violent insurgency that had once overrun the local communities,

some of the new farmers we are working with had not been able to access fertilizer for three years

because it was considered contraband.

 
Nuru's Impact on Farmers During 2020
The true measure of sustained impact is observed in the ways in which Nuru farmers were impacted by the shifts made due to COVID-19. 
In Ethiopia, Managing Director Abiy Meshesha, worked with his team to strengthen the capacity of the 31 Nuru-supported farmer-owned cooperatives serving nearly 45,000 people. Farmers increased their crop yields and income. 80% of the farmer-owned cooperatives were profitable in 2020.

In Nigeria, 38 farmer organizations carried out savings and loan activities, ensuring access to safe and affordable financial services. 500 households successfully and safely

received the inputs

necessary to plant and successfully harvested

in late 2020

. In the health dimension, Nuru Nigeria also launched a partnership with Vitamin Angels to provide vitamins and minerals reaching 54,000 children and 5,000 expectant mothers, as well as deworming medication for kids.

In Kenya, Nuru worked with 11,000 people to increase crop yields, incomes and promote thriving rural agribusinesses. One notable achievement from the Nuru Kenya team was in their health work. Through promoting health behavior change, they achieved a 24% reduction in under-five child mortality. These gains were sustained despite the ongoing pandemic and requirements to work in a socially distanced manner.
Transformative, sustainable change does not happen overnight. Nuru has faced droughts, floods, locusts, fall armyworm, political unrest and instability. COVID-19 has been one more challenge that seemingly appeared insurmountable. Yet, with each new adversity, local leaders have chosen courage. Perhaps that is the most important lesson in the face of COVID-19. Choose courage and resolve to pursue lasting change, even when the circumstance seems devoid of hope.
About Matt Lineal
Chief Program Officer — Matt received his BA in Government and Spanish from Lawrence University and a MS in Forest Sciences from Colorado State University, and began his international service career in rural Honduras, first as a Peace Corps Volunteer and later with The Nature Conservancy. Over several years punctuated by severe challenges for Hondurans, his experiences were eye opening as to how people navigate the complexities of rural life. Matt was drawn to Nuru International in 2011 with the resolve to take on tough challenges and has been humbled and amazed to be part of the transformational impact of local leaders. As Nuru's Chief Program Officer, Matt continues to promote the agency of rural communities as the foundation of meaningful positive change.
Read More Stories of Hope