Mung Bean Cultivation Building Community Climate Resilience in Rural Ethiopia
Local leaders are vital to successful interventions in rural communities, as they can implement programming that is responsive to the local needs of farmers. Nuru Ethiopia introduced mung bean to its smallholder farmers living in the Southern Nations, Nationalities, and People's Region (SNNPR) of Ethiopia in 2018-2019. The intention was to diversify crop production, increase household income, and provide primary farmer cooperatives (PCs) with an additional source of revenue. Mung bean was selected based on its potential to support household nutrition and build resilience to climate shocks.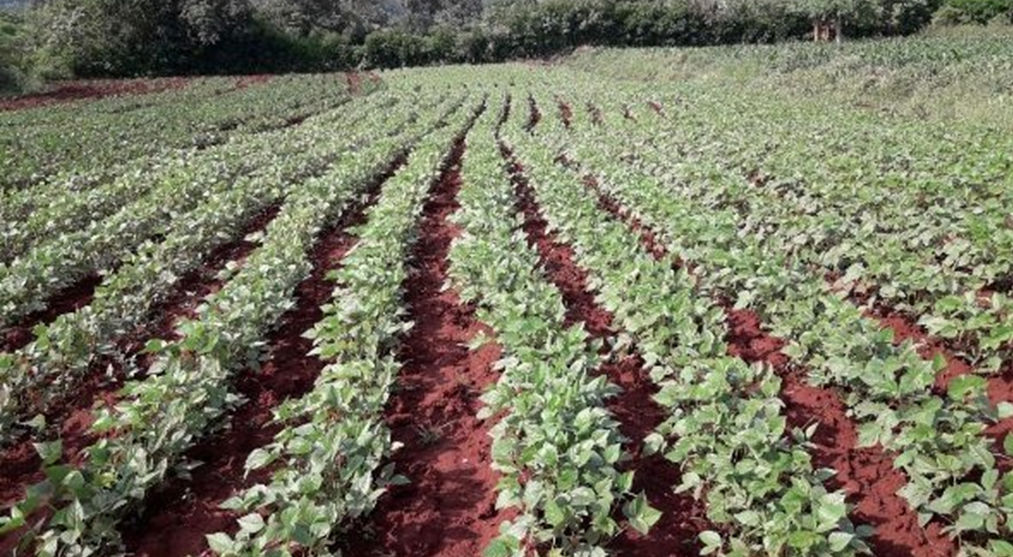 Mung Beans–An Important Shift
Nuru Ethiopia provides financial and technical support that helps smallholder farmers move from subsistence farming to farming as a business. Before introducing mung bean, Nuru Ethiopia's agriculture and cooperative development activities primarily focused on the production of maize (corn) and haricot bean, as these can benefit both the individual farmer households and meet the local market needs.  However, after witnessing maize and haricot bean crop failures due to the impacts of climate change and pests, Nuru Ethiopia recognized a need to shift.
Nuru Ethiopia introduced mung bean as a higher-value cash crop to Nuru farmer cooperative members because it can increase incomes, improve nutrition, and support soil health. Furthermore, mung bean has a low perishability risk, a short production cycle, and a high pest tolerance. 
Nuru Ethiopia equips farmers to increase their incomes by supporting their transition to higher-value crops (crops that will generate greater income when sold). The increased income can further improve the farm, send children to school, purchase necessary household items, and save for future expenses. Mung bean is uniquely suited to the environments where Nuru Ethiopia farmers work, making it an ideal cash crop. The crop is drought tolerant, can contribute to soil health as a nitrogen-fixing legume, and has excellent commercial value in local and export markets. 
Mung Bean Intervention Rollout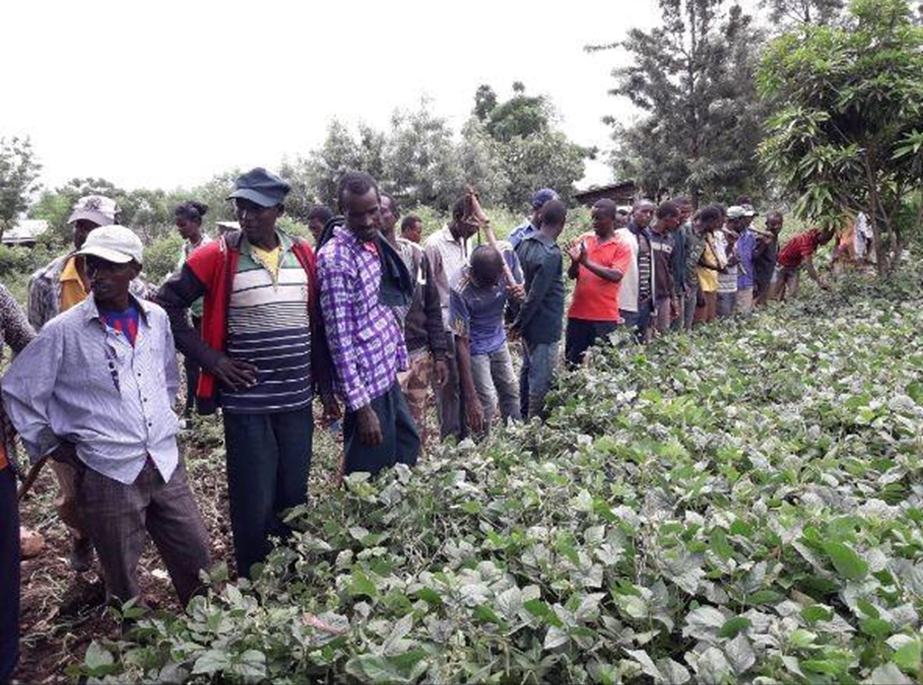 Nuru initially introduced mung bean to Zala and Kucha woredas (districts) in 2018-2019 through demonstration plots–plots of land planted with mung bean to show the crop's suitability to the environment. The demonstration plots were used to educate the farmers on crop management. Introducing a new crop or seed variety can be met with uncertainty and fear in rural communities, where a successful harvest is a lifeline for farmer families.
To mitigate fears and increase knowledge, in addition to the demonstration plots, Nuru Ethiopia hosted experience-sharing events for farmers to learn best practices from one another. The Nuru-supported cooperatives and cooperative union established input (seeds, fertilizer, etc.) access and located markets for farmers to sell their harvests. As participating cooperative leaders and fellow members began reaping the financial benefits of mung bean production, many additional Nuru farmers shifted to cultivating mung bean as a cash crop. The program grew from about 300 farmers in 2019 to over 1,600 farmers in 2022–a 430% increase in participation–and it continues to expand in 2023. 
Nuru Ethiopia Mung Bean Farmer: Erpho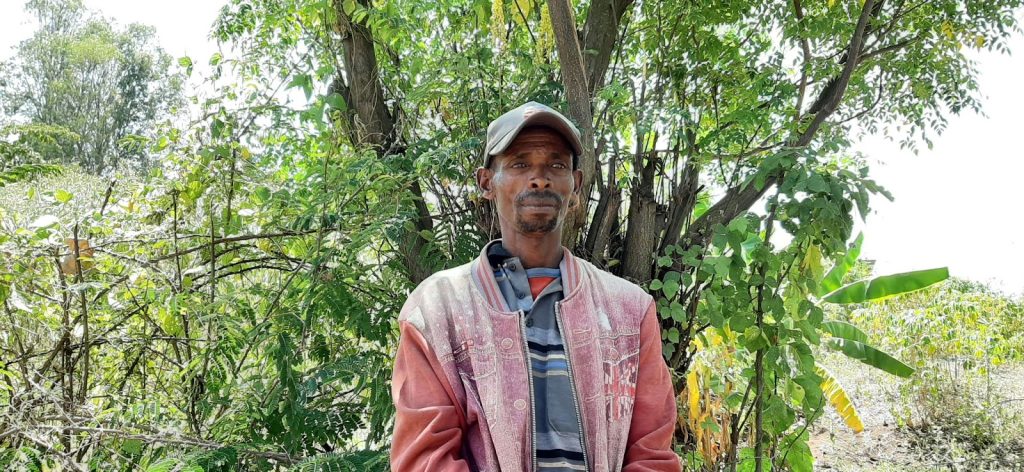 Erpho has been a member of the Zefano PC since 2016, where he was introduced to mung bean. Erpho's first mung bean harvest generated enough income for him to not only cover household expenses and school fees for his children but it equipped him to purchase an ox. Furthermore, he stored 50 kg of mung beans in preparation for next year's planting season. Erpho has been utilizing his knowledge and sharing his lessons learned as he teaches his neighbors about mung bean cultivation and harvesting. He noted that "the farmers who have been engaged in mung bean production are very grateful to Nuru Ethiopia for introducing this important crop to us, as we wouldn't have heard about mung bean [otherwise] nor have the courage to try it."
Mung Bean Nutrition
Mung bean is a type of legume with an edible seed or pulse. Like all pulses, mung beans are nutritionally balanced. One hundred grams of mung beans contains 23 g of protein and other valuable nutrients (USDA). They contain vitamins–like vitamin B6, K, and folate–and minerals–calcium, iron, magnesium, phosphorus, and potassium. Expecting mothers, in particular, can benefit from mung beans because of their high folate levels, a nutrient vital to the healthy growth of a fetus.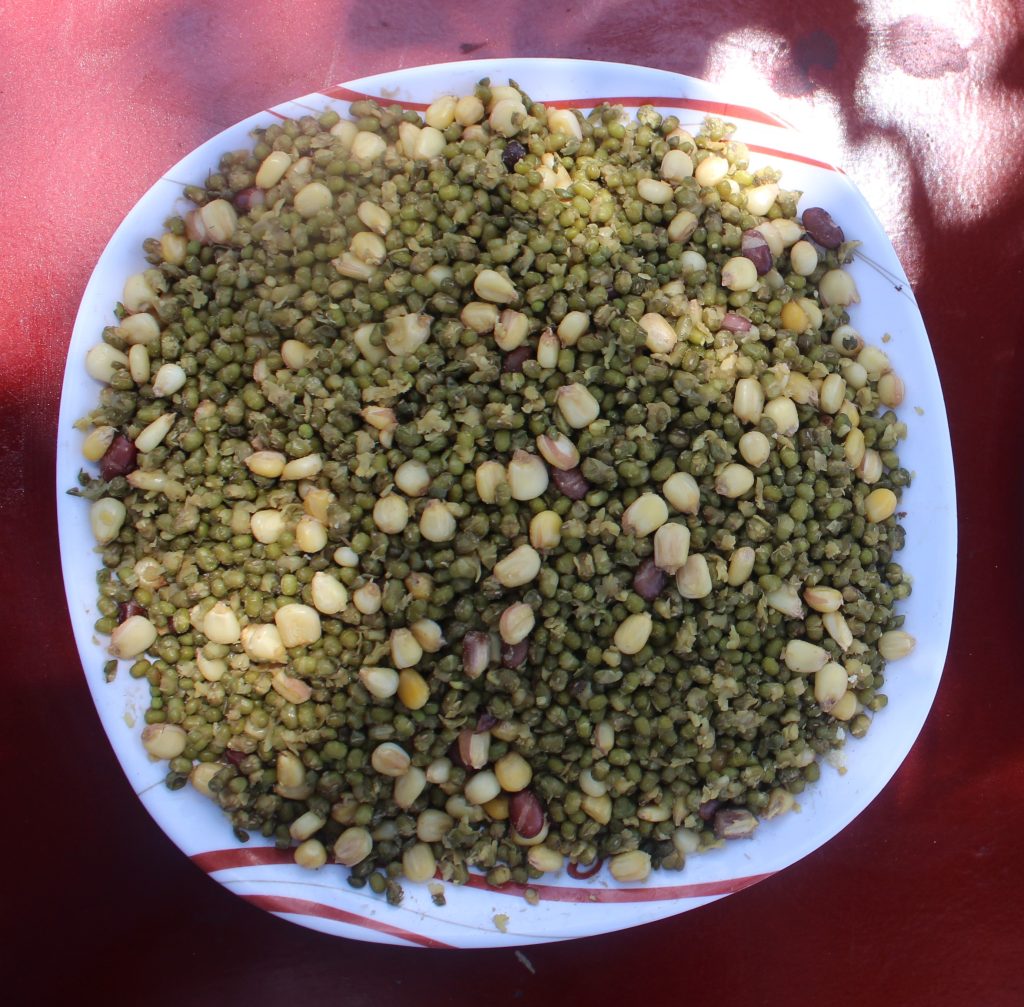 As a newly introduced crop, mung beans were not a typical food in these local communities; however, there has been a notable shift in the food culture, as people now use it as a replacement for lentils in some dishes or when meat is unavailable or too expensive to purchase. Farmers use mung beans to make samosas, mung bean stew, and a local meal called Nifro (boiled corn and mung beans mixed with other cereals). Today, this crop can support food security for Nuru Ethiopia farmers, providing these essential dietary nutrients and quality protein to those who have otherwise had limited access to them.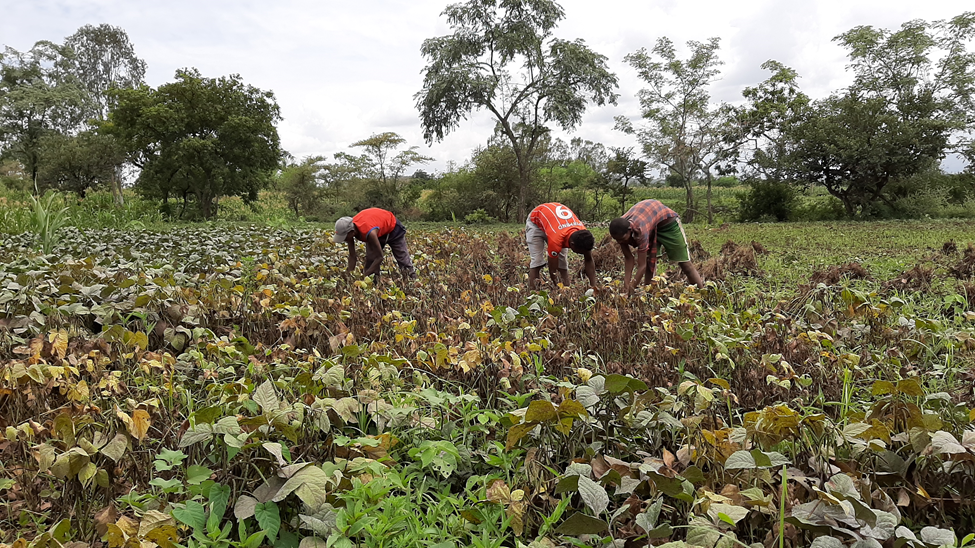 Mung Bean for Sustainable Income 
Nuru Ethiopia's achievements with mung bean cultivation demonstrate the importance of integrated agricultural development efforts that are locally climate resilient, tailored to impact individual farmers, and capable of leveraging the skills and interests of local communities, government sector offices, and rural enterprises. Between 2020 and 2021, farmers increased their mung bean yield by nearly 150%, from 168 kgs/acre to 419 kgs/acre.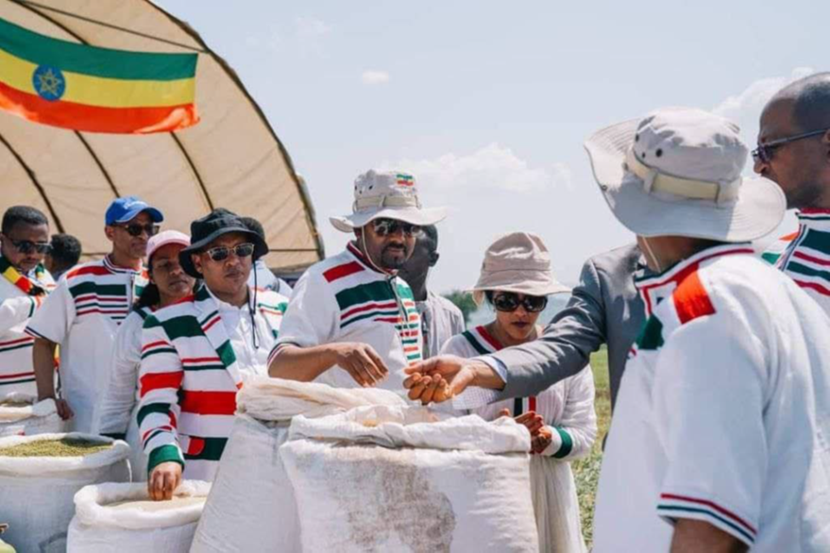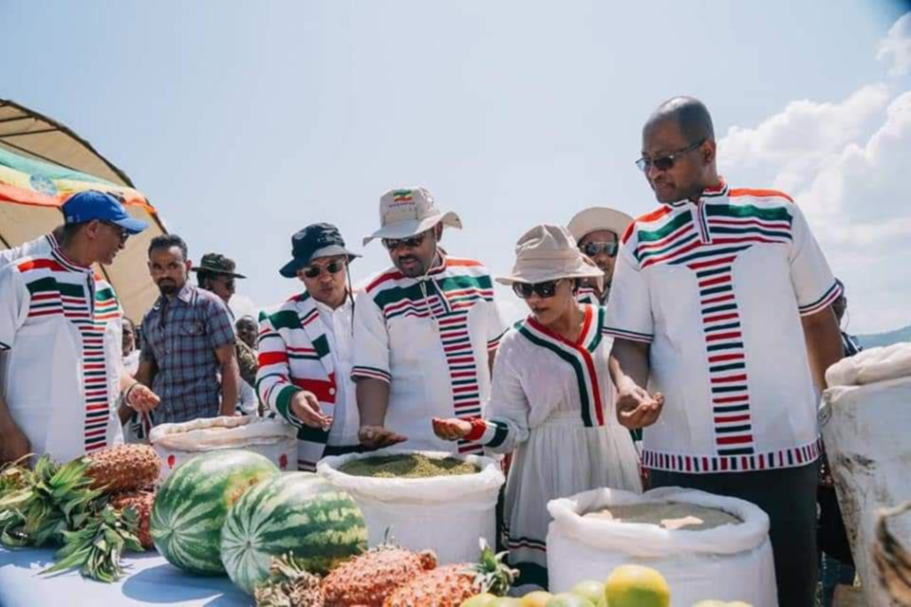 In 2023, Nuru Ethiopia is targeting 4,000 farmers with affordable access to inputs and training on mung bean production. On average, farmers have been able to increase their incomes from selling their mung bean produce by nearly 75%, adding $250 of extra income to the household. This income is significant for rural households transitioning from subsistence livelihoods. Many families have utilized this income to diversify their diets, invest in livestock, and cover basic needs like school fees and healthcare. Local government officials have demonstrated their gratitude for Nuru Ethiopia's introduction of mung bean to the communities and their excitement for Nuru Ethiopia's future scaling.
Mela Kaysha, a Nuru-supported PC, was able to aggregate mung beans from its member farmers as well as from those in neighboring kebeles (small wards) and sell over ten metric tons of mung beans to the Ethiopian Commodity Exchange (ECX), or the equivalent weight of an RV motor home. ECX is a reliable buyer that has been important to the sustainability of Mela Kaysha and has created significant value for member farmers by generating new business relationships for the cooperative.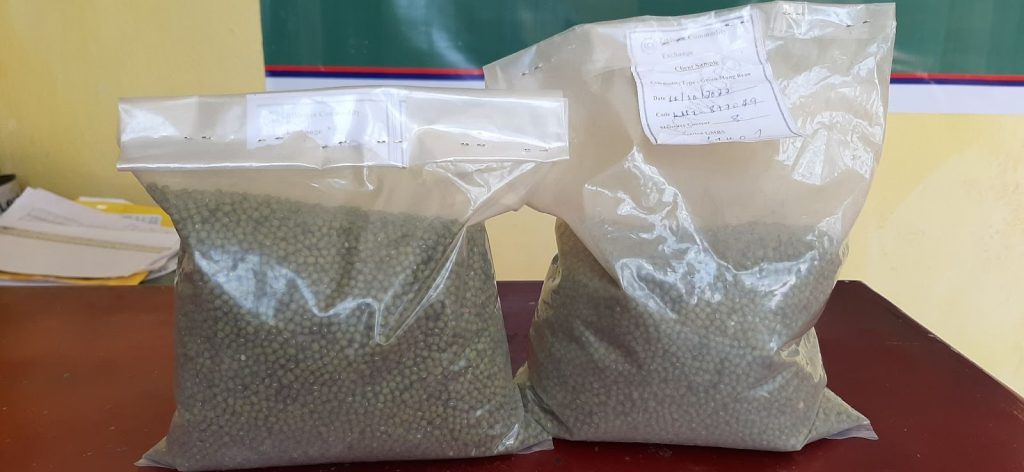 Nuru Ethiopia Mung Bean Farmer: Betamo Anja 
Betamo Anja, through his PC, Awsato Abaya, received extension training on best agronomic and management practices for mung bean cultivation. Additionally, he attended an experience-sharing event that enabled him to learn from other farmers who had grown mung beans. Betamo grew mung bean and sold surplus produce in the local market while keeping a portion for household consumption and seeds for the next planting season. Now, Betamo can cover the cost of his family expenses, including food. Betamo also purchased an ox with the profits.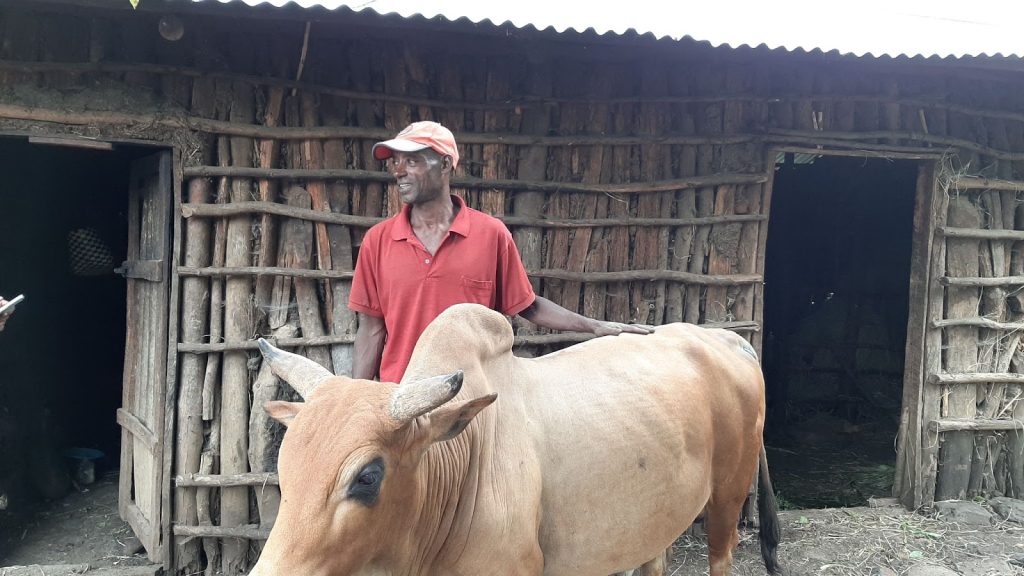 Climate Change Adaptation and Environmental Protection
The impacts of climate change are increasingly evident across the SNNPR region of Ethiopia, where recurrent rain shortages and subsequent crop loss have put pressure on local food systems, threatening their household food security (FEWS). The short maturing and drought-tolerant mung bean varieties promoted by Nuru Ethiopia support climate resilience in the face of these threats.
During the drought of 2022 (The New Humanitarian), farmers experienced a steady increase in mung bean yield even while other crops, like maize, failed. Mung bean is gaining increased attention from both local farmers and local government authorities seeking sustainable solutions to poverty, hunger, and livelihood loss. Mung bean has proven valuable as a short-season crop that not only tolerates drought but also fixes atmospheric nitrogen, decreasing soil nutrient depletion.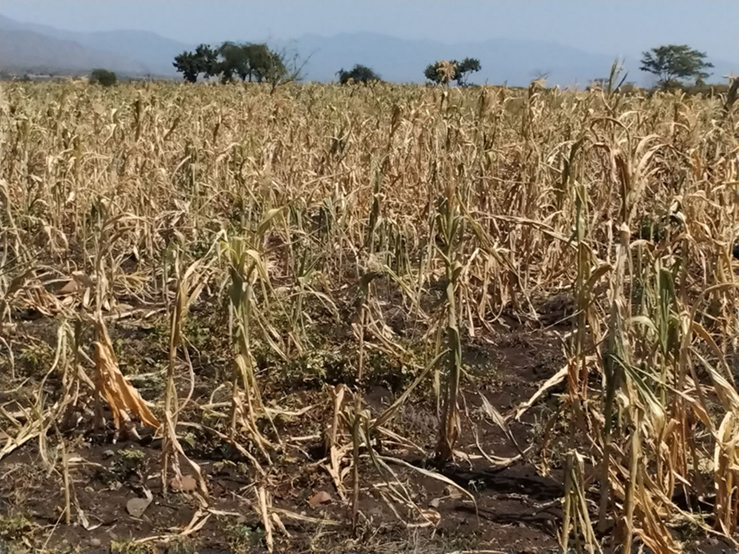 Adopting good agricultural practices, like intercropping or rotating mung bean with other cereal crops, rebuilds the soil. Healthy soil can support the growth of high-quality, nutrient-dense food. When planted properly, mung bean can improve rather than degrade land, ultimately leading to productive farms and healthy communities and economies.  By alleviating rural vulnerability to climate change, Nuru Ethiopia is helping farmers build their resilience and create a pathway out of extreme poverty.
Mung bean cultivation is part of Nuru Ethiopia's focus on promoting regenerative agriculture through climate-smart practices that promote positive nutrition outcomes in rural smallholder farming communities. Learn more about how Nuru Ethiopia helps farmers adapt here. 
This blog post was collaboratively written by Feven Yimer, Casey Harrison, and Tacy Layne. 
About Feven Yimer
Feven has an MA in Sociology from Indra Gandhi National Open University and a Bachelors of Education in Biology from Debube University, Dilla College of Teacher Education and Health Sciences. Prior to joining Nuru Ethiopia, Feven worked as a subject teacher at multiple schools for six years in Addis Ababa. Similarly, she has worked as an English Language instructor for Turkish nationals since 2008. Her most recent experience before joining Nuru Ethiopia is working as a business partner at Emas Advert.
Read More Stories of Hope