Healthy Behaviors and Building Resilience to COVID-19 in Kenya
Today is World Health Day, an annual celebration that aims to create awareness around a specific health priority determined by the World Health Organization. This year's theme of "building a fairer, healthier world for everyone," brings awareness to the global injustices exacerbated by COVID-19. Strides made in addressing food insecurity, gender and health inequality, and extreme poverty have been hampered by the impacts of COVID-19.  As we reflect on the work that remains ahead, we also want to celebrate what Nuru Kenya has been able to accomplish in its efforts to help people to learn about and adopt healthy behaviors in the face of the coronavirus pandemic.
Promoting Healthy Behaviors in Kenya
Since 2008, the Nuru Kenya Healthcare Program has been working to support Nuru farmer families in Migori County, Kenya, to adopt and maintain preventative healthy behaviors like handwashing with soap, delivering babies at a health facility, and purifying water. Water purification includes using household filters like these, chlorination like WaterGuard, and boiling to prevent waterborne illnesses. Making a habit of healthy behaviors is key, as disease prevention is much cheaper than combating the disease itself. This is especially true for rural households that Nuru Kenya works with, households who are fighting to escape the cycle of poverty.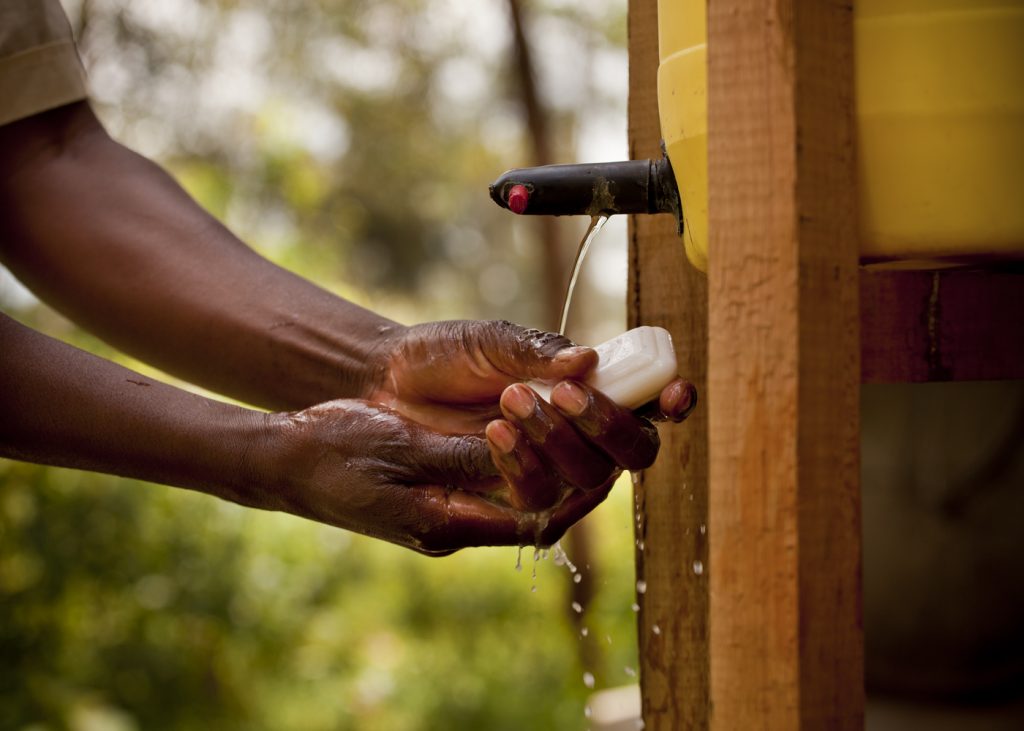 The Impact of COVID-19 on Nuru Farmers
Kenya has, as of March 28, 2021, confirmed a total of 130,214 coronavirus cases, including 2,117 deaths and 91,754 recoveries (MOH Kenya, 2021). Since the first case of COVID-19 was registered in Kenya in March 2020, the journey towards maintaining healthy behaviors has been challenged and threatened in a significant way. Restrictions to public gatherings, mask requirements, social distancing, and government-mandated curfew hours upended daily living for Nuru farmers, disrupting the normal rhythms that were part of maintaining healthy behaviors, including attending group meetings and regularly attending doctor's appointments.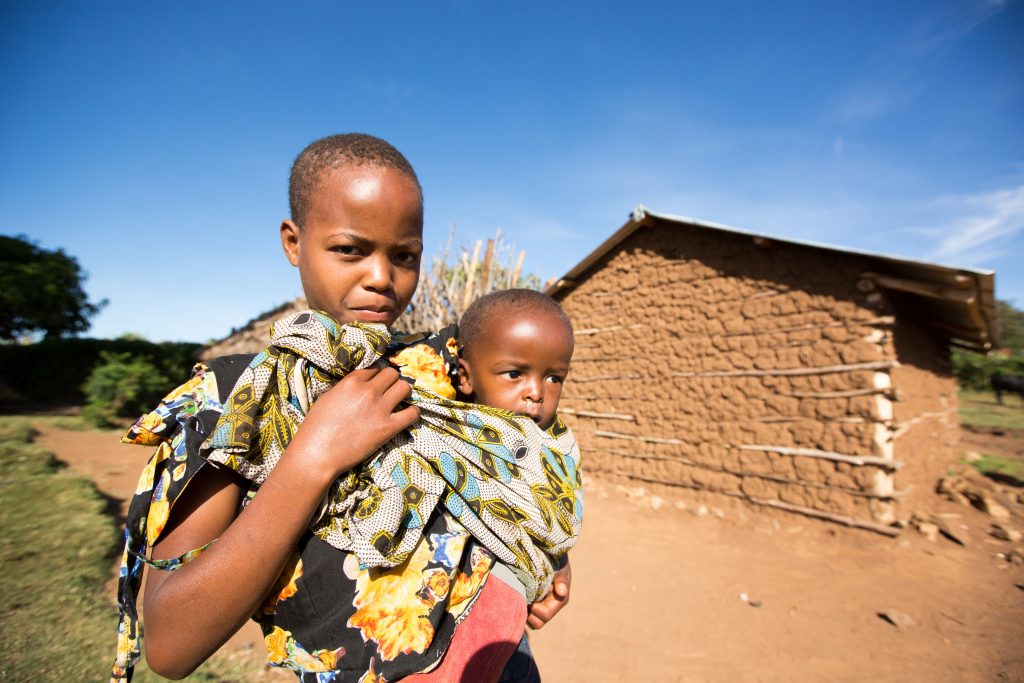 This pandemic disrupted normal operations both for individual farmers and Nuru Kenya's fieldwork activities. Farmers have had limited group meetings as a result of the necessary restrictions on gatherings and social distancing. Economic activities and healthcare service accessibility for the already impoverished farmer families in the rural areas of Migori County were adversely affected. For example, expectant mothers faced challenges with transportation to health facilities–a vital part of their prenatal care–during the newly implemented curfew hours established by the Kenyan government. Program activities requiring meetings, like women's group meetings and heath volunteer leaders' training, were affected, impacting farmers meeting and sharing best healthcare practices.
Adapting to Continue Serving Farmers
In April 2020, as a result of the limited field activities to reduce and prevent the spread of the virus, Nuru Kenya planned and adopted a remote approach. This was done through the use of SMS and phone calls, creating awareness and promoting the adoption and maintenance of the key preventive health behaviors. Behaviors include handwashing with soap, delivering babies in a health facility, appropriate complementary feeding, sleeping under an LLIN to prevent malaria, drinking safe water, and attending 4 antenatal care visits.  Also, the team utilized these same approaches to educate farmer families on COVID-19.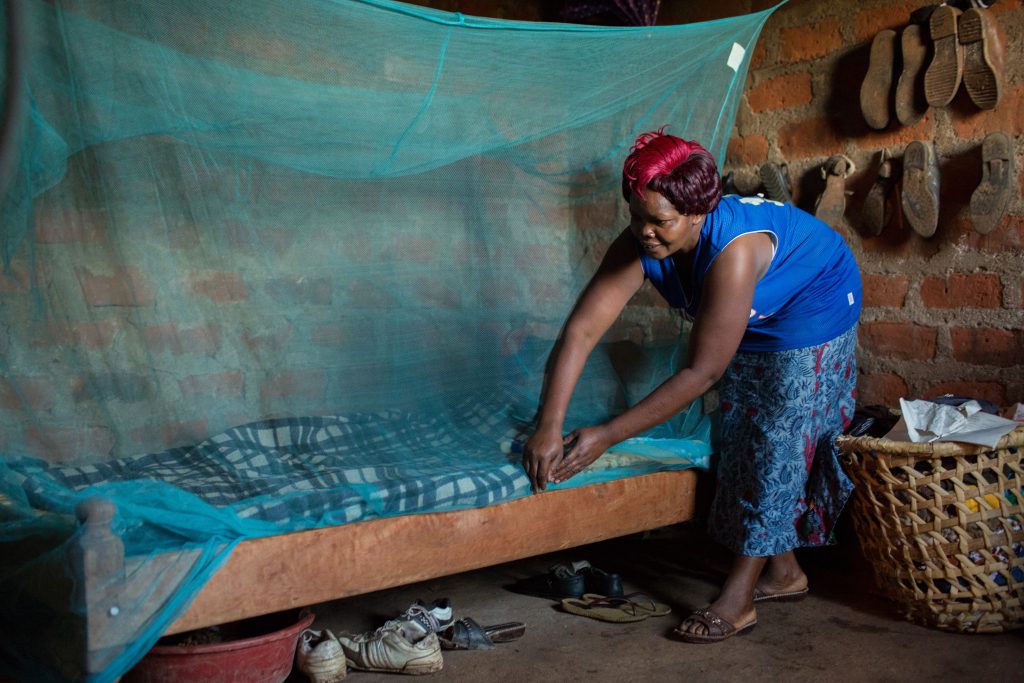 Here is just one example of how this remote approach worked. Agnes Sophia, a trained community health volunteer and farmer leader, currently offers health education to 67 farmers through her phone. She has appreciated the strategies put in place by Nuru during this period of the pandemic, "Through phone calls, I have been able to continue reaching out and educating my cooperative farmers on the key health behaviors. My farmers have utilized this opportunity to seek clarification on the key health behaviors and products like water filters for making drinking water safe. Regularly, I do explain to the farmers how to make a simple tippy-tap handwashing facility, as this is one of the strategies of preventing coronavirus." 
To ensure the effective application of the SMS and phone calls, Nuru staff trained volunteer leaders. These leaders were from each of the farmer cooperatives Nuru works with, and they were trained on communication skills, especially how to communicate effectively and efficiently on the phone. During these in-person training sessions, the participants observed social distancing, wore masks, and had hand sanitizer available. The training objective was to help the participants understand the role of ongoing communication in supporting farmer families adopting and maintaining healthy behaviors.
COVID has highlighted the need to increase farmer families' education in preventive health. Furthermore, it has shown that healthcare interventions need to be redesigned to continue meeting the needs of farmers when in-person activities are not possible. Nuru Kenya has been able to creatively adapt its programming. These adaptations will ensure the continued sustainability and impact of its work. Additionally, these adaptations have helped farmers not only stand resilient in the face of ongoing healthcare challenges but also ensured that farmers understand the steps they can take to slow the spread of COVID-19 in their communities.
About Victor Charo Simon
Nuru Kenya Regional Training Coordinator—Prior to joining Nuru Kenya, Victor served as a public health officer with the Ministry of Health, where he led the community health workers and natural leaders in implementing the community health strategy. He has wide experience in water sanitation and hygiene activities, home-based care and support for people living with HIV, and maternal and child health. Victor has a bachelor's degree in Environmental Health Science from Makerere University, Uganda, and certificates in Epidemiology and Biostatistics from the University of Washington/University of Nairobi, and in Project Planning and Management, Dynamic Leadership, Financial intelligence from World Vision.
Read More Stories of Hope