The Inspiring Journey of Tisinya Cooperative Milk Bar
Along the Kenya-Tanzania border, in the heart of Isibania, Kenya, Tisinya Farmers' Cooperative and its local business, the Tisinya Cooperative Milk Bar, are making a big impact on both farmer members and the community. The Tisinya Cooperative Milk Bar–a local establishment for purchasing fresh milk–is a symbol of unity, resilience, and hope for local farmers. The Tisinya Cooperative was established in 2016, driven by a shared aspiration to fight extreme poverty and support livelihoods through agricultural activities.
Tisinya Cooperative Builds Farmer Resilience Through Member Benefit
Tisinya Cooperative membership comes with numerous benefits. Farmers receive input loans to cultivate food crops and are supported to sell the surplus for additional income. Through the cooperative, Nuru Kenya also provides members with capacity building on best agronomic practices, dairy management, financial management, and climate-smart agriculture training, with the aim of increasing crop yields, dairy yields, and incomes to build farmer resilience and create a pathway out of extreme poverty.
Selling the milk through the cooperative provides farmers with a number of benefits. It ensures consistent payment at better prices and a consistent market for their milk. Farmers have been able to transition from seasonal crop income to a more reliable daily income from the milk sales. With the increased income, farmers are now able to meet their household needs, pay for the education of their children, and build better homes. Additionally, farmers are able to use the income to invest in better dairy cow breeds and continue improving their dairy farming practices.
Through the cooperative, farmers learn improved milk handling practices and gain access to improved animal breeds that can be purchased through the cooperative. Dairy farmer members also have access to heifer loans, artificial insemination (AI) services, and continuous training in dairy best management practices, resulting in healthy dairy cow growth and higher productivity. Additionally, Tisinya facilitates access to valuable business and financial training, setting farmers up for long-term success in their dairy business. Cooperative membership creates connections with external support services, resulting in a comprehensive pathway for farmers to build resilience and thrive in the face of adversity.
The cooperative is structured for efficient management and decision-making, and it is governed by a member-elected management committee. Over time, the cooperative has flourished, growing from 147 members to a current total of 575 members. To become a cooperative member, farmers must pay a small registration fee and make a minimum annual contribution to the cooperative. This membership model promotes unity and cooperation, leading to the cooperative's success in uplifting its members and the community through sustainable agriculture and economic empowerment.
Tisinya Cooperative Milk Bar
The cooperative has faced numerous challenges, including difficulty in finding a reliable market for its milk. Initially, farmers had to venture long distances to sell their produce, which proved to be both exhausting and economically inefficient. They often had to rely on credit sales, adding to their financial burden and making cash flow management challenging. Delivering milk with long commute times on poor-quality roads combined with inadequate refrigeration facilities contributed to milk spoilage, leading to significant losses for the farmers.
Despite these challenges, the farmers remained determined to improve their circumstances and were unwilling to give up on their dreams of a better future. The vision for the cooperative milk bar emerged from the farmers' struggle to find a sustainable market for their individual milk sales. By aggregating their milk and establishing the milk bar, farmers created a consistent buyer and gained bargaining power as a collective.
The cooperative carefully selected a strategic location and equipped the milk bar with a milk cooling tank and a milk ATM (milk vending machine). With a well-executed marketing strategy, the milk bar has achieved tremendous growth, increasing sales by more than 5x The introduction of the milk vending machine has been vital to the milk bar sales, as it allows customers to purchase any desired amount of milk, even very small amounts. This flexibility in purchasing has significantly increased customer satisfaction and attracted more consumers to the milk bar.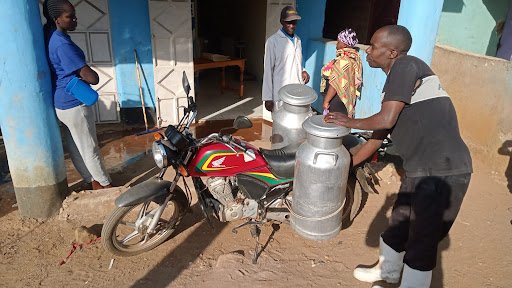 High-Quality Milk: A Point of Pride for the Milk Bar
Ensuring the quality and freshness of its milk is of utmost importance to the Tisinya Cooperative. Farmer-supplied milk undergoes rigorous testing and must meet strict criteria, as the milk bar promotes sustainability, ethics, and quality assurance. With the establishment of the milk bar, farmers have been able to maintain the freshness and quality of their milk through cold storage, addressing previous spoilage issues. This reduces losses and increases the shelf life of the milk, leading to improved customer satisfaction.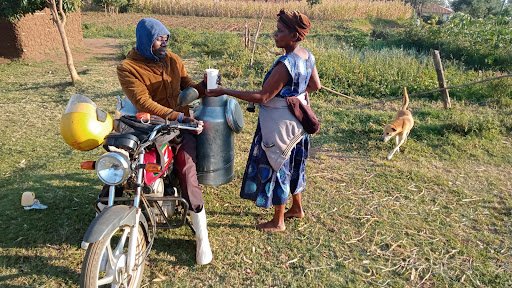 The Tisinya Milk Bar focuses on providing high-quality, competitively priced milk. Their consistency in milk supply, along with proper refrigeration, ensures that consumers receive top-notch products. The milk bar goes beyond just milk sales. It contributes to the local community through various initiatives, including capacity building for dairy farmers, linkages to input suppliers, improved animal genetics, and access to quality veterinary services.
Tisinya Cooperative Dairy Farmer: Amos
Amos Chacha has been a member of Tisinya Farmers' Cooperative since 2020, when he was introduced to dairy farming. Before the cooperative, he lacked a reliable income to support his family, cover necessary expenses, and plan for the future. When Amos joined the cooperative, he gained access to ongoing training on dairy best management practices and artificial insemination (AI) services for his dairy cow, resulting in a healthy pregnancy and calf. Amos gained a deep understanding of the value of dairy farming and its potential to reshape his circumstances.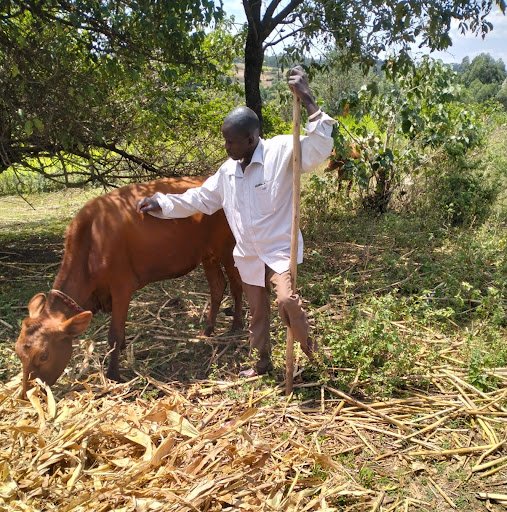 With this knowledge, he took a business risk and invested in an additional dairy cow. Today, Amos has a herd of four dairy cows that are producing a steady supply of milk, which he is able to sell for additional income. Amos also began cultivating high-nutrition grasses for cattle fodder, leading to improved health and increased milk production among his dairy cows. Each day, Amos milks his cows, yielding about 2 ½ gallons of milk. This milk, aggregated at the Tisinya Cooperative, is sold through the milk vending machine. This innovation not only streamlines the process of selling milk but also ensures that Amos' efforts translate into tangible income. The income generated from selling milk has enabled Amos to provide quality education for his children, meet his household needs, and invest in essential farming inputs. Furthermore, milk supports quality protein and calcium for his family–vital healthy nutrients that can otherwise be challenging to access locally.
Milk Bar Offers Cause for Celebration And Inspiration
The Tisinya Cooperative Milk Bar is a shining example of what collective efforts and determination can achieve. From struggling farmers to empowered entrepreneurs, their stories serve as an inspiration. Through sustainable practices, ethical values, and community engagement, the cooperative has not only transformed its members' lives but also left a lasting impact on the entire community. As they continue to grow, Tisinya Cooperative Milk Bar remains an example of potential to other farmers and cooperatives, supporting a brighter future with more opportunities for rural farmers in Migori County. The success of the milk bar has brought immense joy and excitement to the farmers and the cooperative.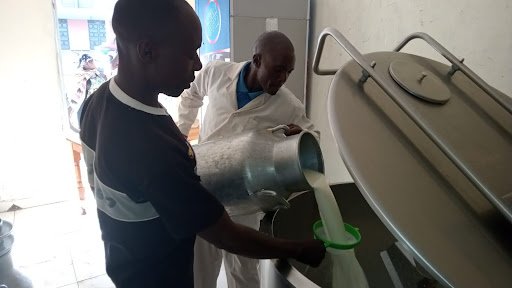 Tisinya Cooperative Lessons Learned
The Tisinya Cooperative farmers have gained valuable lessons from their successful milk bar establishment. They emphasize the importance of unity, quality, and innovation for economic growth. Prioritizing quality ensures consumer trust and creates potential for future partnerships By embracing innovation, these farmers have stayed relevant and competitive in their ever-changing market. Additionally, seeking collaborative partnerships with stakeholders has provided them with access to valuable resources and knowledge, fostering improved productivity and efficiency. Their advice to other farmers facing similar challenges is to form cooperatives, adhere to strict quality control, and embrace innovative practices. By coming together, farmers can achieve economies of scale and market strength, leading to improved profitability and sustainability.
About Miriam Njeri
Read More Stories of Hope