Nuru Nigeria Partners with GIZ to Empower Women
FOR IMMEDIATE RELEASE: July 30, 2023 
Contact: Simon | info@nuruinternational.org
Abuja, Nigeria–Nuru Nigeria, in partnership with Deutsche Gesellschaft für Internationale Zusammenarbeit (GIZ),  is proud to announce the successful distribution of 2,500 ewes and 250 rams as part of its gender-transformative approach to equipping smallholder farmers with the tools needed to chart a path out of poverty. This GIZ-funded initiative aims to promote livelihood diversification for women and foster the inclusion of those who are culturally restricted from engaging in land cultivation.
"The distribution of rams is a significant step towards empowering women and fostering their journey to self-reliance," said Nuru Nigeria Managing Director Amy Gaman. She added, "Nuru Nigeria recognizes that women play a crucial role in economic development, yet many face challenges due to cultural norms and restrictions." By tailoring this intervention to meet their needs, Nuru Nigeria is working towards breaking down barriers and creating a more inclusive society.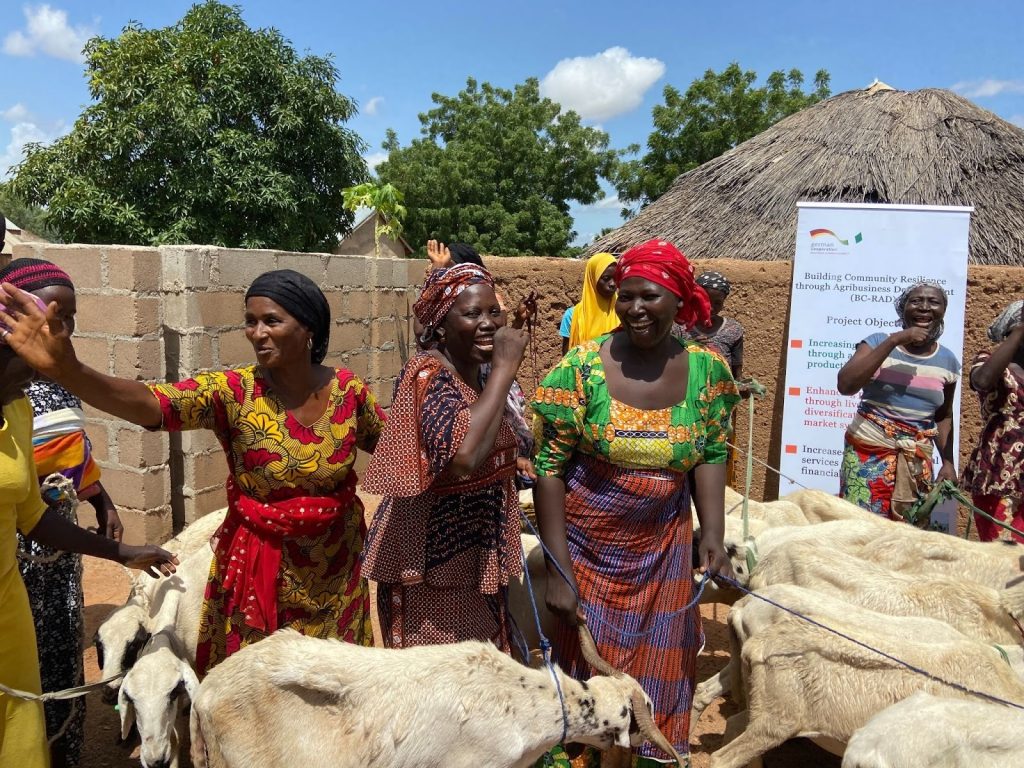 Nuru Nigeria distributed 2,500 ewes and 250 rams to women in various communities, enabling them to engage in livestock rearing and other income-generating activities. Livestock rearing allows women to diversify their livelihoods and become more financially independent. By engaging in activities traditionally dominated by men, women are equipped to challenge gender roles and contribute to the economic growth of their communities.
Moreover, the GIZ-funded activity facilitated the financial inclusion of women, the savings and loan activities experienced gained momentum as the women saw more support for their income-generating activities. Nuru Nigeria recognizes that financial services play a critical role in equipping individuals and communities. Through targeted interventions, Nuru Nigeria is equipping women with training and support, enabling them to make informed decisions and take control of their economic future.
Nuru Nigeria remains committed to promoting gender equality and creating an enabling environment for women to thrive. By adopting a gender-transformative approach, the organization is actively challenging societal norms and working towards a more inclusive and equitable society.
About Nuru Nigeria:
Nuru Nigeria is a local nonprofit organization that works to build a resilience corridor across northeastern Nigeria through a holistic nutrition-sensitive agribusiness approach, to end extreme poverty in Nigeria. Nuru Nigeria focuses on establishing self-sustainable farmer organizations, increasing access to financial services and literacy, and strengthening community-led development initiatives. Click here for more information.

About GIZ:
GIZ is implementing the Social and Economic Participation of Returnees, IDPs (Internally Displaced Persons) and the Host Population in North-East Nigeria (SEPIN) programme, which aims to enhance the social and economic participation of the vulnerable population in some Local Government Areas of Adamawa state, Nigeria in a gender-responsive manner.
###
About Simon
Simon holds a B. Tech in Urban and Regional Planning as well as an M. Tech in infrastructure along with several certifications in program design and project management. Simon joined the fight to end extreme poverty after several years of being a tutor in higher institutions. He believes knowledge creates wealth. After experience living as a refugee in northern Cameroon during the time when his home community was part of Boko Haram's caliphate, Simon is passionate about providing the people of northeastern Nigeria opportunities for hope and meaningful choices. 
Read More Stories of Hope