Nuru Kenya Shares At Conference In Nairobi, Kenya
In mid-September, Pauline Wambeti, Nuru Kenya's Country Director, shared her perspectives on locally-led development, as part of a panel discussion at the 2019 AidEx Nairobi conference. This conference attracted over 1,000 aid and development practitioners and as a result, Nuru Kenya is emerging as a thought leader in development in East Africa.
Conference attendees included various aid and development partners, such as the Government of Kenya, UN agencies, Kenya Red Cross, Oxfam, and other international and local NGOs. Nuru Kenya staff engaged in the interactive conference program, learned best practices from other organizations, and shared both challenges and successes.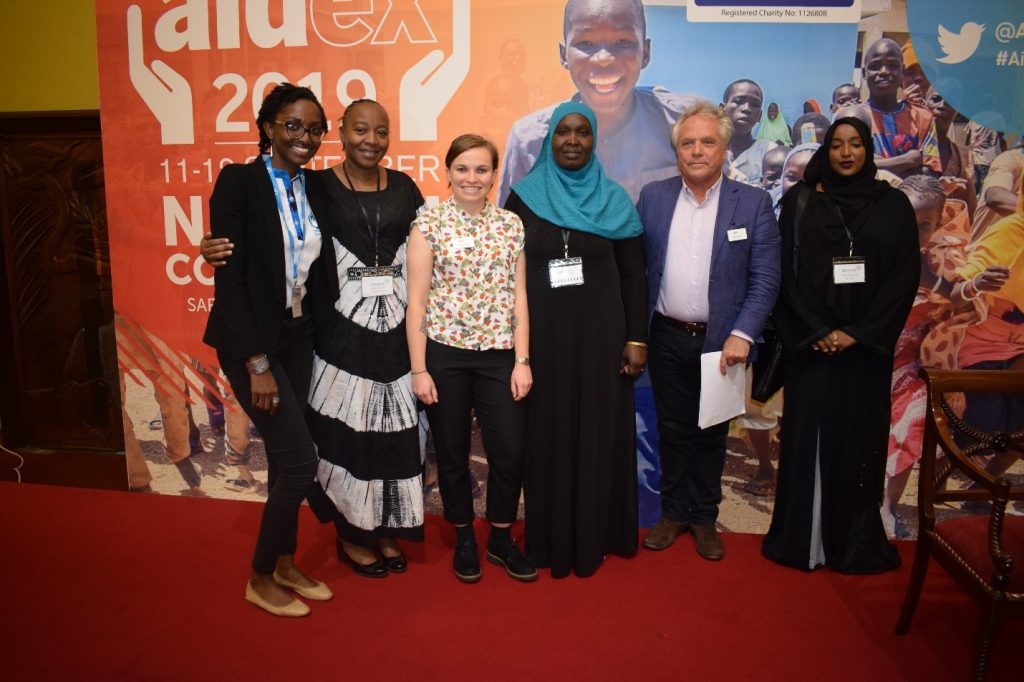 Pauline's panel tackled the theme, "Localization as a Reality". Pauline used this opportunity to share lessons learned from a decade of successes and learning while driving change for thousands of farmer households in Migori County, Kenya. 
In 2015, after approximately seven years in Kenya, Nuru International left behind a completely self-sustaining impact model owned and operated by local leaders. Regarding this handover from the expatriate team, Pauline said, "It is always not easy to relinquish power, control of resources, decision making, and authority to the local community. Many things can come in the way–lack of capacity, trust, accountability, structures, technology. I would say it was very brave of our donors–who believed in our vision and our ability to chart the path towards designing sustainable solutions–to [give us space to] lead ourselves out of extreme poverty."
Nuru International and Nuru Kenya continue to work together in the fight to end extreme poverty. Pauline shared, "It has been a ten-year journey of discovery and mistakes. We have challenged ourselves to fail fast and learn fast. We tell ourselves that we know where we want to go. We may not know exactly how, but we know exactly why we are doing it. We are able to apply our resources where there is need. We have the passion! We may lack the expertise, but we make up for it in our passion to succeed and we want to be able to scale sustainable solutions to other communities that are experiencing the same challenges. We have been able to have synergy and work around co-creation and designing sustainable solutions."
Events like Aidex Nairobi provide a vital platform for important and candid discussions about the successes and failures in the development arena. Pauline and her team are leading the charge in East Africa by sharing not only theories, but how these theories are being tested daily through driving impact and lasting change for farmers and their families in Migori County, Kenya, and beyond. Thanks to the belief and support of so many, Nuru Kenya is working to encourage others in East Africa to drive toward effective locally-led change. 
About Raphael Osano
Raphael is the Public Relations Officer for Nuru International Kenya. Before joining Nuru in September 2016, he was the Communications Officer for Impact Research and Development Organization since 2013. Earlier, he had worked with Standard Group Media in Nairobi as an Intern Journalist in 2012. He is currently pursuing a MA in Communications and Media Studies at Maseno University in Kisumu Kenya. He has a BA in Linguistics, Media and Communications from Moi University in Eldoret Kenya. He also has a Diploma in Information, Communications and Technology as well as a Certificate in Graphics and Website Design. He is passionate about writing and photojournalism.
Read More Stories of Hope