Nuru International shares on-the-ground perspective in high profile Notre Dame event on Global Fragility
FOR IMMEDIATE RELEASE
July 22, 2019

CONTACT
Tacy Layne | tacy.layne@nuruinternational.org
Costa Mesa– On Thursday, July 18, the University of Notre Dame's Keough School of Global Affairs hosted its "UNITY on GLOBAL FRAGILITY: Can Today's Momentum in Washington Stop Tomorrow's Violent Conflicts?" event in Washington, D.C.
The hosts led a robust discussion on countering violent extremism as a unifying idea across government from high profile experts across the defense, diplomacy and development sectors, including current senior officials from the Department of Defense, State Department and USAID. Featured speakers were NGO leaders who are pioneering programs and strategies to take this initiative into the field in real time, such as Search for Common Ground, Mercy Corps, and Nuru International.   
Three panels addressed the following topics:

Bipartisan Leadership on Conflict Prevention: The Global Fragility Act of 2019

Stabilization, Security, and Development: Defining and Measuring Success

Inter-Agency Peacebuilding: How Coordination Can Produce Real Results in the Field
Senator Chris Coons (Delaware), the lead Democrat on the Global Fragility Act (GFA), and Republican Senator Todd Young (Indiana) provided a refreshing bipartisan presentation on the bill, which would create a whole-of-government approach to American foreign policy with respect to preventing the spread of violent extremism. They emphasized the importance of bipartisan work on this issue and  highlighted the bill's potential to tear down walls and connect the dots in the government. Senator Coons said the area where he personally thinks of first implementing the GFA first is the Sahel and Nigeria due to the direness of the situation. They forecasted the bill's success, breaking news that the Senate will "hotline" the bill the same day to see if it may pass the Senate by unanimous consent. Senator Young emphasized that we owe it to the men and women in uniform to take part in prevention as opposed to reaction.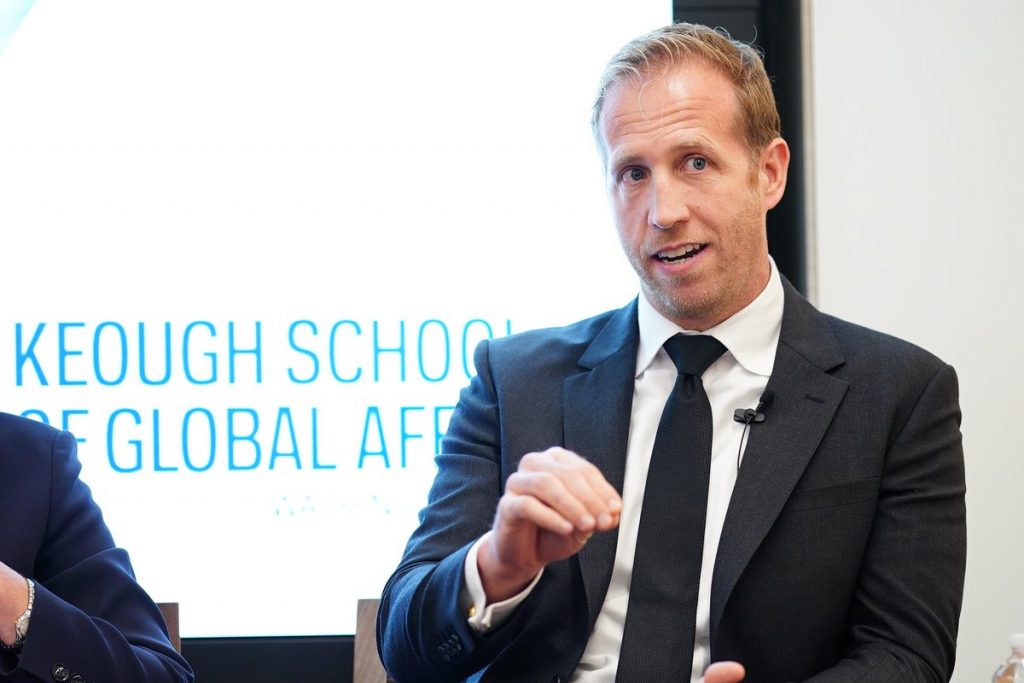 Nuru International was represented by its Founder/CEO Jake Harriman, who shared his thoughts on inter-agency peacebuilding. Jake said, "For this legislation to have real teeth and realize the impact we all hope to see on the ground, we need to embrace some bold new ideas. What we have been doing isn't working. We need innovation at all levels. What does that look like on the ground?"
This approach requires innovative ways for DoD to work with NGOs. We are losing the battle for hearts and minds in the vulnerable communities that matter most at ground zero in the war against violent extremism. This is because the communities that are being directly influenced and exploited by these groups are, by nature, in highly insecure areas that are too dangerous for NGOs to operate. We need new models, new ways for DoD to enhance the ability of implementing partners to work in these areas, and new ways for NGOs to become more equipped to work in these areas. This does not mean Provisional Reconstruction Teams or military-led Village Stabilization Operations. USAID and others have started pushing the envelope of what might be possible here through ideas such as Rapid Expeditionary Deployment Teams, but we have further to go to deliver real models that work in the most fragile, vulnerable communities. 

This approach requires new measurement tools. We need to be able to declare what success looks like and then measure against that. There have been some impressive gains recently in this field—led by pioneers like Mercy Corps and others, but we still have a long way to go in effectively measuring success in prevention and stabilization. The age-old problem here is: how do you measure a non-event? Prevention of conflict and extremism is an enormous, global challenge that should have the very best talent across all sectors weighing in to find a solution. We need to go outside the traditional NGO and government stakeholders to pull in leading thinkers from academic institutions like JPAL of MIT and private sector data analytics teams at top tech firms to help design new tools in this fight that will more accurately inform design and implementation of winning solutions.

This approach requires new funding mechanisms to get funding directly to implementing partners who are embedded in these communities. New Partnerships Initiative is an example that USAID is currently piloting to get grants directly to underutilized partners–smaller entities that can respond and adapt quickly, making data-driven decisions real-time as the situation rapidly changes in the dynamic ecosystems of highly fragile regions.

To make all this work is going to require a real shift in culture. We need to introduce a higher level of risk tolerance in our culture from the top levels of the inter-agency all the way down to the implementers on the ground. We need more of a design mentality with a core value of fail fast, learn fast. We cannot be afraid of failure, and proper incentives need to be in place to try new ideas and allow for and even encourage select failure.
Jake's unique, on-the-ground perspective and insights earned him agreement and appreciation from the Notre Dame hosts, his fellow panelists, and the audience of more than 250 experts and leaders.
"It's so humbling and inspiring for Nuru to be one of the lead voices now in the discussion on global fragility. There is so much momentum around this issue at all levels of leadership in academia, government, and civil society. My team and I are excited by the prospects of GFA passage, and we're eager to begin the hard work of helping to implement this bill on the ground in some of the most fragile places in the world."

-Jake Harriman
Click here for a full-length video recording of the event.
About Marc Rahlves
Chief Operating Officer - Marc joined Nuru in 2014 and has over 15 years of experience in strategy consulting and general management. He worked nine years with Bain & Company, managing strategy development, operational improvements, private equity, and implementation projects in the US, Europe, Asia, and Australia. Marc then served as the Chief Financial Officer of the global education nonprofit Escuela Nueva in Colombia, South America, before joining the Bridgespan Group in New York. Marc earned his MBA with emphasis on Entrepreneurship from the Haas School of Business at UC Berkeley and has a B.S. in Business Administration (finance and information systems) from the University of Colorado at Boulder.
Read More Stories of Hope