Nuru International Selected as a 2019 NonProfit Times Best Nonprofit to Work For
Nuru International is ecstatic to have made The NonProfit Times "Best Nonprofits to Work For" list for the second year in a row. Nuru moved up 14 spots from last year and is now ranked the 28th Best Nonprofit to Work For in the U.S. In the Small Organizations category (15-49 employees), Nuru is ranked at number ten. We believe that going through the rigorous Great Workplace Certification last year helped us improve our results.

Nuru is a "distributed organization," and the ability for our team to work remotely is a major factor in making the Best Nonprofit to Work For list. Further, Nuru's rigorous use of a balanced scorecard and HR management dashboard to track progress and diversity, as well as a world-wide recognized duty of care program contributed significantly to this recognition.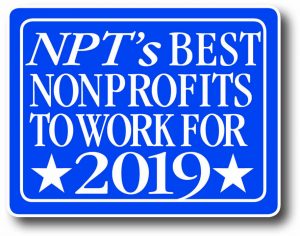 Among the top ten drivers for nonprofits making the list are having employees that: feel valued at the organization, see themselves making progress in their work, and demonstrate confidence in the leadership of the organization. Flexibility, benefits, and "being appreciated" were other key themes. In addition, a noted positive characteristic of small nonprofits is that the mission tends to tie staff more closely together than at large organizations. At the end of 2017, Nuru International reshaped its vision and mission to focus on ending extreme poverty in fragile states including "peace and stability" in its ultimate desired outcomes. Launching Nuru's third country project in Nigeria has been a major step toward achieving this new mission, even further fusing together our organizational culture, and adding a new sense of purpose and urgency to our staff.
Our Nuru Kenya Country Director once summed it up beautifully: Our culture = failure + trust + love + keep going.
The complete digital article is available here.
About Emily McLaughlin
HR Director — Emily has over a decade of experience in human resources, training and teaching. Since joining Nuru in 2010, she has been passionate about supporting Nuru's incredible staff and striving to make Nuru one of the best companies to work for. While Emily earned her BA in English and Communications at Concordia University in the sunny city of Irvine, CA, she's a Washington native at heart, and you can find her always looking for excuses to get outdoors with her hubby and three crazy kiddos. During her time at Nuru, she has been instrumental in creating a healthy culture that lives out its values in service to communities living in extreme poverty.
Read More Stories of Hope