Nuru International Clinches Runner Up Position at the 2018 Duty of Care Awards
The Duty of Care Awards, created by the International SOS Foundation, promote 'Empowering Sustainability & Resilience', honouring leadership, foresight  and strategic innovation in protecting the global workforce. The Awards honoured organizations and individuals worldwide making a significant contribution to protecting their people while travelling or working remotely.
On May 17, 2018, Nuru International was awarded Runner Up in the Resilient Care category at the International SOS Foundation 2018 Duty of Care Awards. The award was given in recognition of Nuru's Resiliency Program, a holistic approach to optimizing health and resiliency throughout an employee's time at Nuru. Of the 15 companies shortlisted globally, Nuru was one of only two nonprofits recognized, and and was named as runner up for this top award to Citibank.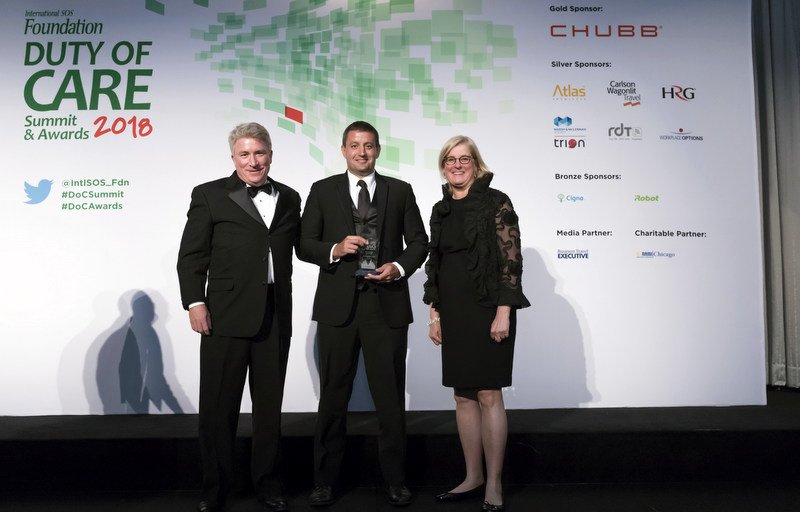 In addition, Nuru's Security Coordinator, Brian von Kraus, was selected as one of only eight individuals worldwide to receive the honor of Ambassador of Duty of Care, and the only individual shortlisted representing a nonprofit. Brian had this to say about representing Nuru at the event. "It was an honor to be nominated for Duty of Care Ambassador on behalf of Nuru International. Being listed among the top eight was a testament to the innovative nature of Nuru International and its firm commitment to helping those communities in conflict zones who need help the most. Furthermore, Nuru winning the Runner Up for Excellence in Duty of Care is emblematic of the organization's commitment to the safety, security, and well-being of its staff who are doing tremendous work in various remote regions of the world. Nuru will continue to work shoulder to shoulder with those struggling in extreme poverty and walk together with them on the road to prosperity."
Judges reviewed entries representing 59 industries and organizations in 42 countries. 2018 Duty of Care Award winners were announced in the following categories: Innovation, Aviation, Education, Sustainability, Thought Leadership, Resilient Care, Communication, Remote Healthcare, and Ambassador of Duty of Care (individual). The judging panel for the Duty of Care Awards included internationally recognized leaders in fields related to Duty of Care.  For a full list of the judging panel, click here.
The 2018 Duty of Care Summit and Awards were supported by the following organizations in order to make this event possible: Chubb, HRG, Carlson Wagonlit Travel, Atlas Knowledge, Remote Diagnostic Technologies, Workplace Options, Marsh & McLennan Companies, Everbridge, iRobot and Cigna.
Nuru is honored to add this recognition to our growing list of press and awards.
About Emily McLaughlin
HR Director — Emily has over a decade of experience in human resources, training and teaching. Since joining Nuru in 2010, she has been passionate about supporting Nuru's incredible staff and striving to make Nuru one of the best companies to work for. While Emily earned her BA in English and Communications at Concordia University in the sunny city of Irvine, CA, she's a Washington native at heart, and you can find her always looking for excuses to get outdoors with her hubby and three crazy kiddos. During her time at Nuru, she has been instrumental in creating a healthy culture that lives out its values in service to communities living in extreme poverty.
Read More Stories of Hope