Nuru Burkina Faso Secures USAID Award
FOR IMMEDIATE RELEASE: July 21, 2023
Contact: Tacy Layne | info@nuruinternational.org 
Ouagadougou, Burkina Faso–Nuru Burkina Faso, in its second year of operations, has secured a grant totaling $2 million through USAID Locally Led Development Initiative in support of its TILIGRE Initiative for Farmers' Resilience (TIFR). Notably, while other organizational members of the Nuru Collective have secured funding through USAID, no local organization has been able to achieve this milestone so close to its launch date. Under the TIFR program, Nuru International will serve as a sub-awardee, providing technical oversight and mentorship in agriculture, livelihoods, food security, nutrition, and financial inclusion. 
Through this partnership with USAID, Nuru Burkina Faso will continue pursuing its mission to build resilience in municipalities in Burkina Faso by empowering farmer organizations through the promotion of sustainable and inclusive techniques. Nuru Burkina Faso promotes farming as a business to enable local communities with the economic freedom to make meaningful choices impacting their families' futures, build resilience to climate change and other external shocks, and reinforce stability in their communities.
Noella, Nuru Burkina Faso Project Coordinator, says, "We are thrilled to be working with great partners from USAID and Nuru International to implement programming which relies on locally sustainable solutions to improve soil health, bolster crop yields, and build long-term economic resilience in communities affected by food insecurity."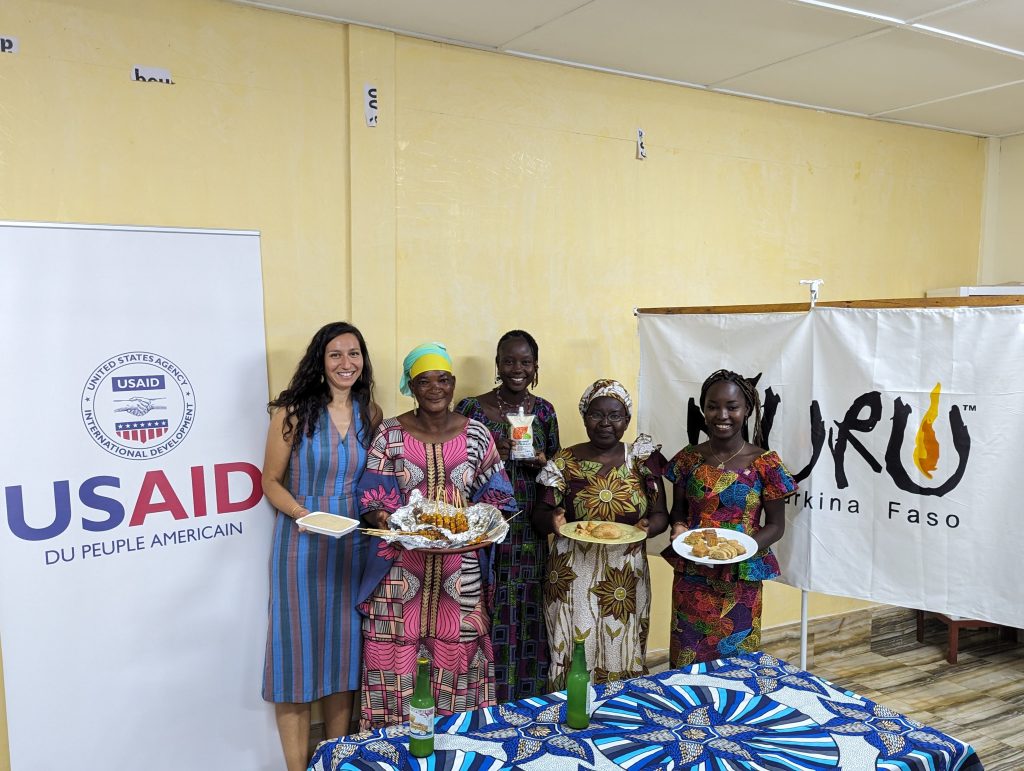 The overarching goal of TIFR is to develop and reinforce the profitability and capacities of 16 cooperatives (with 150-300 farmer members each) and their leadership through a resilience-building model. Over the course of two years, the TIFR program will work to promote economic growth and self-reliance in Burkina Faso by increasing household incomes for farmers and supporting livelihood diversification. TIFR will build local solutions to increase social cohesion and improve community resilience to vulnerabilities that may otherwise be exploited. These efforts will be approached through five main project components, with a focus on women and youth participation: 
farmer adoption of climate-smart and nutrition-sensitive agriculture

support the appropriate delivery and use of ignitia weather service 

digitizing financial inclusion through cooperatives

cooperative business development

strengthening cooperative crop commercialization
Nuru International CEO Aerie Changala says, "USAID's partnership with Nuru Burkina Faso's TILIGRE Initiative is an investment in a more resilient future for people living in the heart of the Sahel. By bringing communities together in common economic interest, the TIFR will unlock prosperity through positive collective action." 
Nuru Burkina Faso and Nuru International are proud to partner with USAID to cultivate lasting meaningful choices in Burkina Faso's most vulnerable and marginalized communities.
About Nuru International: 
Established in 2008, Nuru International is part of the Nuru Collective, a group of organizations working together to address extreme poverty and promote resilience through locally-led solutions across four countries in Sub-Saharan Africa: Kenya, Ethiopia, Nigeria, and Burkina Faso. 
About Nuru Burkina Faso: 
Established in 2022, Nuru Burkina Faso is part of the Nuru Collective. Nuru Burkina Faso builds resilience in Burkina Faso by empowering agricultural organizations through the promotion of sustainable and inclusive techniques.
About USAID: 
USAID leads international development and humanitarian efforts to save lives, reduce poverty, strengthen democratic governance, and help nations progress beyond assistance.
This publication is made possible by the support of the American People through the United States Agency for International Development (USAID). Its contents are the sole responsibility of Nuru Burkina Faso and do not necessarily reflect the views of USAID or the United States Government.
###
About Nuru
Nuru's vision is to cultivate lasting meaningful choices in the most vulnerable and marginalized communities in the world.
Read More Stories of Hope