#NuruVeterans: Meet Brian von Kraus, Security Strategic Advisor
While Nuru International isn't a military or veterans organization, it was founded by a former Special Operations Marine. All of us at Nuru deeply value the unique skills and talents our #NuruVeterans bring to the team. In honor of Veteran's Day, Nuru is highlighting its decorated veterans who left the battlefield for a new frontline—joining the fight against extreme poverty.
Meet Brian von Kraus who joined Nuru International in 2015 as Security Strategic Advisor.
Q: Tell us about your time in the service and why you decided to join.
A: I served in the Marine Corps for 15 years serving primarily in the infantry with short tours in reconnaissance and special operations. I chose to serve because my parents were immigrants, and I felt I owed the country for what it had given my parents and me. It was a great 15 years, and I loved every minute of it.
Q: Of all the jobs you could have taken when leaving the military, why did you choose to work for a social venture?
A: I wanted to have impact. I realized through my experience in Iraq and Afghanistan that the military could never offer the complete solution to conflict. An NGO holistically addressing all of a  community's needs had a greater chance of success for creating peace.
Q: What from your military training best prepared you for your current role with Nuru?
A: The ability to thrive in a completely fluid environment and rapidly adapt to changing conditions. Working with partner forces and local leaders opened my eyes to the power of relationships and the importance of finding the right leaders. Strong leaders are the ones who change the world at every level from the village to the capital.
Q: What is your favorite part about working for Nuru?
A: Struggling with one of the biggest problems in the world. The challenge is humbling and motivating at the same time.
Q: Where did you live growing up?
A: I was born in New Jersey and grew up in Boston. I've lived in San Clemente for the past 15 years.
Q: What did you want to be when you were growing up?
A: Either an astronaut or a garbageman. Both seemed equally cool at the time.
Q: When you're not hard at work ending extreme poverty, what do you enjoy doing?
A: Traveling to see the world. Enjoying everything California has to offer. Spending time with close friends.
Q: Finally, if Hollywood made a movie about your life, what would the title be and who would you like to see cast as you?
A: Fast and Furious 8 (my driving is horrible) starring my cousin Luca Belloiu who is starting up in the movie business.
Read some of Brian's work:
Feel free to reach out and connect with Brian von Kraus via Twitter @bvonkraus.
Read about our other #NuruVeterans.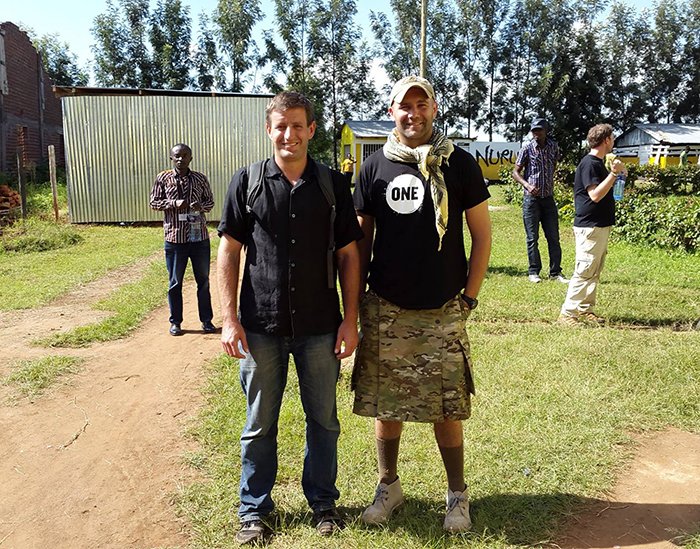 About Kim Do
Kim served Nuru International for eight years in marketing, branding, communications and special events. She counts it an honor to spend the best hours of her day fighting to end extreme poverty. Follow her on Twitter at @bykimdo
Read More Stories of Hope