Nuru Nigeria and Nuru Burkina Faso Share Lessons Learned
The Nuru Collective member organizations embrace a culture of sharing experiences and lessons learned, and with each iteration of programs and each year of practice, Nuru improves methods and understanding. This core belief in learning and improvement was exemplified in September 2022 through a learning exchange between Nuru Burkina Faso and Nuru Nigeria. This learning exchange is part of the local design process aimed at highlighting lessons and experiences of in-country leaders. 
Building on Local Lessons Learned
As Nuru begins operations in Burkina Faso, building on lessons learned by Nuru organizations in Nigeria, Ethiopia, and Kenya, new local leaders and staff are faced with many challenges, obstacles, and learning opportunities. These range from how to build an effective team, to how to best engage with local farmers, and everything in between. These questions and more are often best answered through experience sharing with and support from peer organizations who have faced similar circumstances. 
In 2018, in northeast Nigeria, a similar process was undertaken. New staff and local leaders faced the same challenges. To launch the new organization and set program priorities, Nuru utilized a local design process, implemented through a series of workshops with Nuru International staff and the recently hired Nuru Nigeria team. This process sought to build leadership capabilities and team cohesion, while sharing technical expertise and best practices. Furthermore, this process built on lessons from Nuru Kenya and Nuru Ethiopia, but the design process did not include either team from Kenya or Ethiopia directly. Looking back, we see that direct collaboration with other Nuru country teams would have provided valuable insight and key lessons for Nuru Nigeria.  
Learning Exchanges Support Overcoming Challenges
With this lesson in mind, in 2022, the Nuru Collective decided to further refine its local design process and seize the opportunity to learn from one another. In the early stages of launching Nuru Burkina Faso, the Burkinabe team traveled to Nuru Nigeria in September of this year
to learn from their peers and to begin to build relationships that will foster continued learning as each organization grows and meets new challenges. This activity represents yet another step towards building a cohesive Nuru Collective, detailed further in the Nuru 2021 Annual Report. Moreover, it was a chance to prove that experience and knowledge transfer could happen more effectively between regional neighbors than it could through a series of lengthy workshops facilitated and co-created by international staff.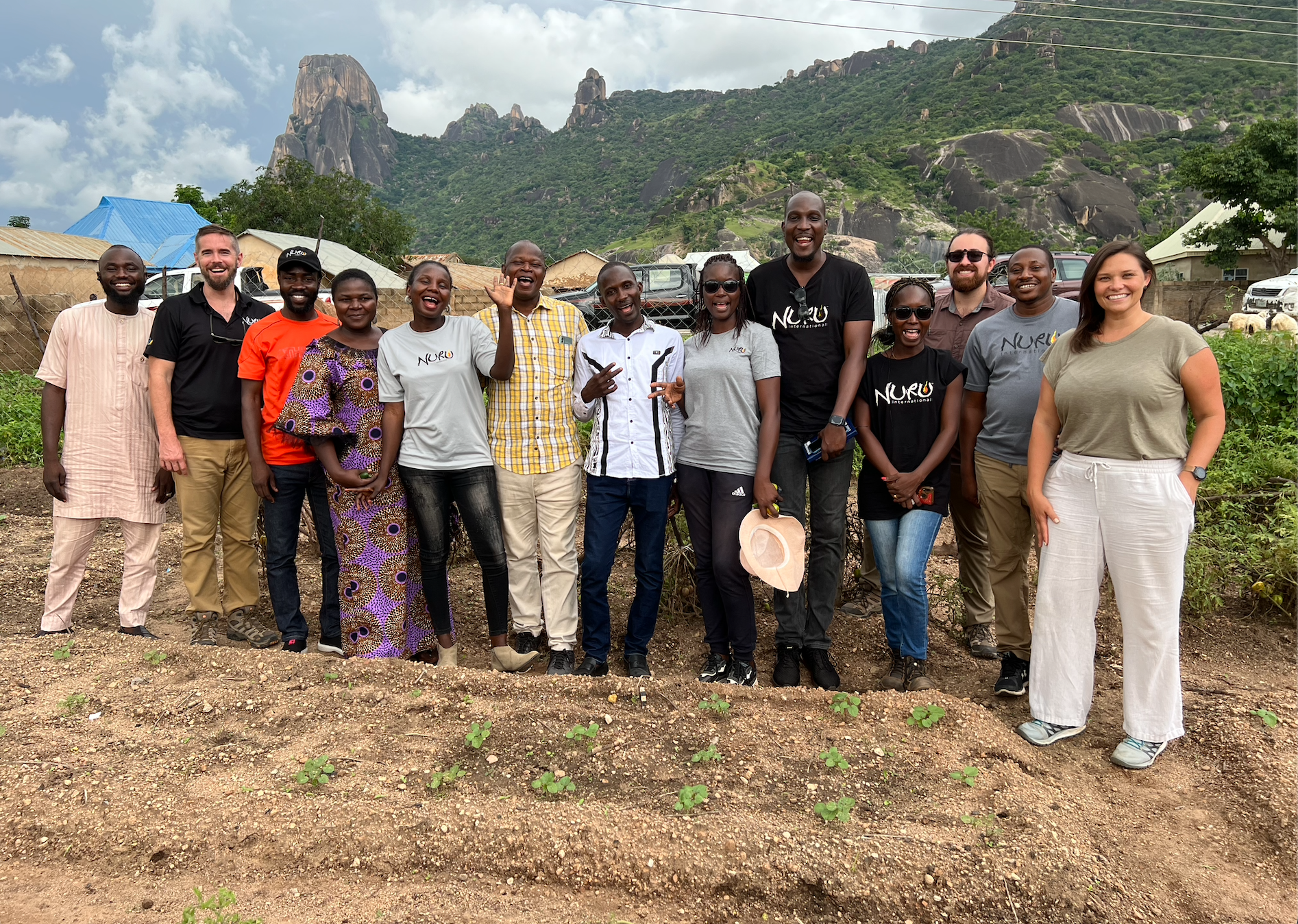 "Over the last two years, I have had the opportunity to watch Nuru Nigeria grow as a young, driven and impassioned organization. As they have scaled into new communities, they have also developed new and better systems to set Nuru-supported farmer organizations up for success. As Nuru Nigeria continues to help farmers gain access to more meaningful choices in northeast Nigeria, the Nuru Nigeria team is becoming a mentor and a partner to the Nuru Burkina Faso team as they learn to navigate their own opportunities and challenges. That is why having the Nuru Burkina Faso team come to Nigeria to see and share with the Nuru Nigeria team was so special. The Nuru Collective carries with it a shared vision, shared learning, and shared successes." – Dena Bunnel, Nuru International Nigeria Advisor
Three Days of Learning and Building Relationships
Over the course of three full days, the Nuru Burkina Faso team had the opportunity to learn from Nuru Nigeria local leaders. The first day, there were icebreakers and introductions, and the team learned about the history of Nuru Nigeria from some of the staff that had been there from the beginning. This involved sharing photos, stories, and deep dives into what went well and what could have gone much better. While the primary goal was to inform the Nuru Burkina Faso team, the Nuru Nigeria team gained new insights as well.
"The Nuru Burkina Faso visit was very enlightening for me. It has broadened my knowledge and perspective about farmers' cooperatives. In Nuru Nigeria, we started building our cooperatives from the formation of farmers' groups before transitioning them into cooperatives after a series of capacity development and readiness activities, whereas Nuru Burkina Faso utilized existing farmers' cooperatives to strengthen and make them more profitable and sustainable through their programming. I think it's an approach that Nuru Nigeria can utilize in the future." – Humshe, Nuru Nigeria Agricultural & Extension Program Coordinator
The second day, Nuru Burkina Faso had the opportunity to visit two regions in which Nuru Nigeria has been operating. This gave the Burkina Faso staff the opportunity to see and meet the field staff and dedicated local leaders at the cooperative level. They also had the chance to see how programs are being run, from demonstration plots, to cooperative training, to security practices used to ensure the safety of all those working throughout the organization. 
"Before the trip to Nigeria, I had many apprehensions about how Nuru Burkina Faso would succeed in its ambitious missions with farmers. This immersion trip to Nuru Nigeria resolved many questions, and above all, reassured me that the difficulties that the Nuru Burkina Faso team encountered are a normal part of the initial process. The inter-organizational working session allowed for a better understanding of the Nuru approach and to become familiar with the tools and procedures at the managerial level. The Nuru Burkina Faso team left Nigeria ready to deploy programs in Burkina Faso and impact the lives of farmers in the localities where it operates."      – Angelique, Nuru Burkina Faso Program Coordinator
On the last day, the two teams exchanged their technical expertise, alongside three staff members from Nuru International who helped to facilitate the exchange. This day focused on learning about strategic planning, connecting cooperative farmers to improved input suppliers, engaging local leaders and government officials, and applying best practices in monitoring and evaluation. Perhaps most importantly, there were opportunities for learning and building lasting regional relationships through shared meals and face-to-face discussions, including extensive exchanges between Nuru Nigeria Managing Director Amy Gaman and Nuru Burkina Faso Program Coordinator Noella, the women leading Nuru Nigeria and Nuru Burkina Faso.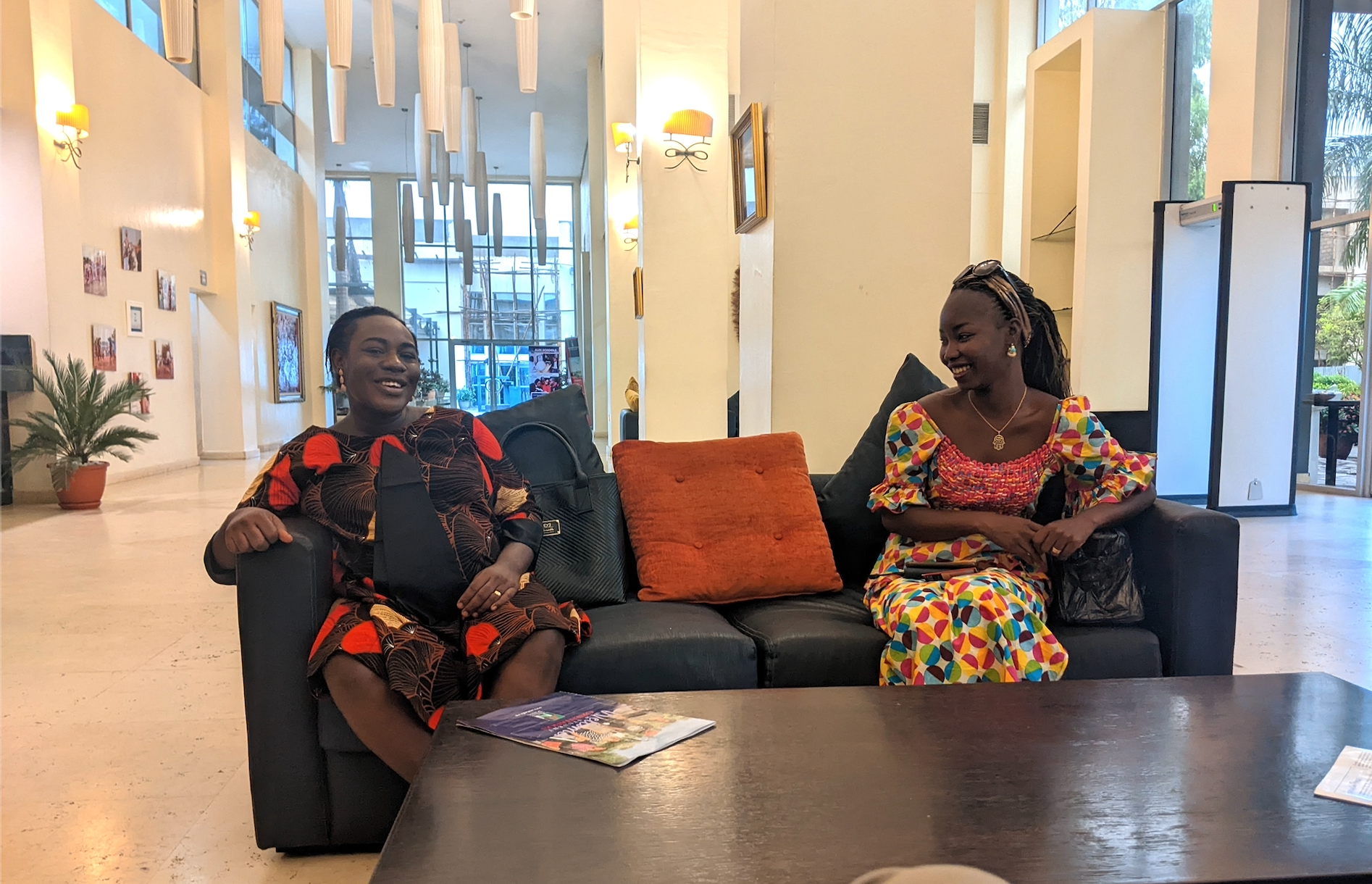 Next Steps: Continue Learning
Feedback from both Nuru Burkina Faso and Nuru Nigeria on this experience was extremely positive, and it has reinforced that exchange and knowledge sharing across Nuru organizations is an invaluable use of time and resources. Knowledge and learning exchanges such as these inspire more rapid action and innovation through collaboration. Not only will this experience undoubtedly be repeated as Nuru scales into new geographies, but it has also helped to underline the importance of shifting the learning experience to highlight and amplify local perspectives and expertise.
About Ian Schwenke
Ian was born and raised in the DC metro area, but has spent nearly 8 years living and working on the African continent with family, friends, and during his Peace Corps Service in Benin. Before Nuru, Ian received his MA in Global Human Development, and a specialization in sub-Saharan African regional studies at Georgetown University. While pursuing his MA, he had the opportunity to blend his knowledge of small-scale community development learned in the Peace Corps with academic practices used by development organizations and practitioners. At Nuru as an MEL Sr. Associate, Ian will help incorporate best practices to monitor ongoing projects, evaluate successes and failures, and learn for the future.
Read More Stories of Hope