Nuru Ethiopia CED Strengths and Needs Assessment in Photos
When is the last time you swiped a credit card or paid for a purchase online?  For most of us, these transactions are so commonplace that we rarely give them a second thought. But, did you know that half of the world is unbanked, or without access to formal financial services?
In fact, according to the World Bank, 75 percent of individuals living on less than $2 a day do not have formal bank accounts. When faced with a financial shock in life – like unpredictable weather or loss of a loved one – individuals living in extreme poverty are often hit the hardest because they don't have significant savings or a line of credit to fall back on. But it's not just the big shocks that are difficult for households who don't have access to a bank account. Even expenses like paying school fees or treating a routine illness become a burden when one needs to rely on friends or family or other methods to acquire cash, instead of simply swiping a card or withdrawing cash from the local ATM.
For those of us who live in such a connected world where you can deposit checks on your phone and send money with a click of a button, it's hard to imagine that hiding money under a mattress or storing life savings in a single asset (like a cow) could be the only savings plan accessible to people living in extreme poverty. 
For Nuru Ethiopia, the M&E team conducted a Strengths and Needs Assessment (SNA) in March 2014 as part of Nuru's Program Planning Process (PPP) which aimed to answer the question: What are the needs and strengths of Nuru farmers related to the inability to cope with economic shocks? The population Nuru works with is among this unbanked population. Therefore, economic shocks are plentiful – whether foreseen, like school fees or transportation costs, or unforeseen, like the death of a loved one. Both types of shocks can cause financial instability for a household.
The SNA research design served two goals: 1) to gain general knowledge of the farmers enrolled in the Nuru; and 2) to collaborate with the Nuru Ethiopia team early in the PPP for knowledge sharing purposes. Before the SNA, M&E conducted a training to enable teams to carry out the SNA process independent of Nuru International staff.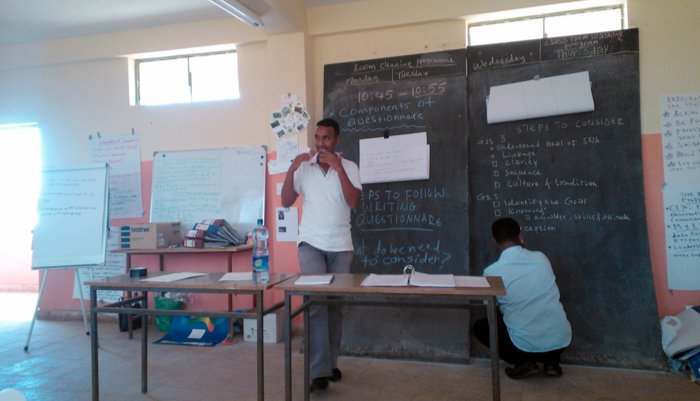 During the SNA, the teams conducted key informant interviews, qualitative group interviews, and interviews with formal and informal financial institutions in Hambisa, Dubano Bulo and Meteka Mele kebeles in Boreda Woreda, SNNPR, Ethiopia.
Walking great distances to survey households, you can see how it would be difficult to access a bank without paved roads, regular modes of transportation or nearby services.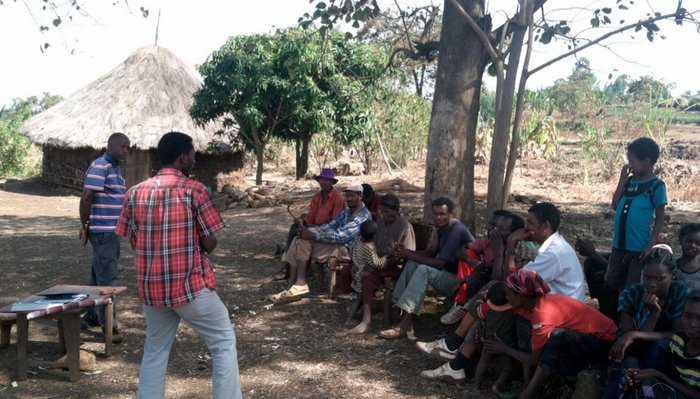 Tekalign Taferi and Kasim Feleke, Nuru Ethiopia staff members, conduct a Pairwise Ranking group interview – a technique used to form a group consensus on the most important needs in a community by comparing the importance, occurrence and severity of various needs.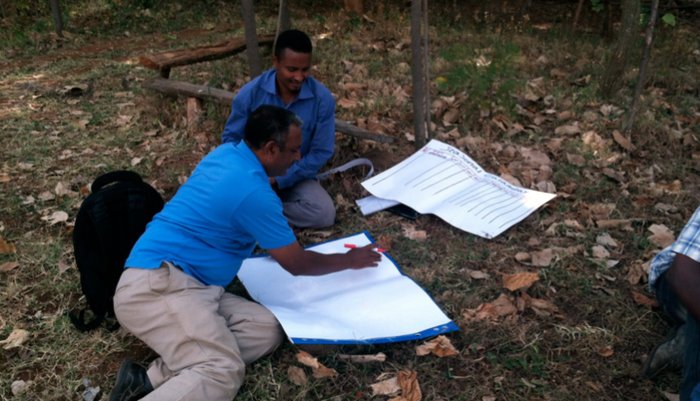 Elias Fanta, CED Strategic Program Advisor, and Behebret Gezachew prepare for a Seasonal Calendar group interview – a tool used to gain an understanding of the changes in the seasons throughout a typical calendar year. The purpose of this Seasonal Calendar tool is to assist the planning of interventions by understanding regular occurring patterns in behaviors as well as common monthly and annual events. Through this, the team learned when households regularly spend and earn money, to determine when cash could be available for saving.
Results
Investigating both strengths and needs, the Nuru Ethiopia team concluded that the main strengths of Nuru farmers were having strong social bonds as reflected in the high participation in an informal insurance arrangement called Iddir1 (the success of which is dependent on relationships of high trust); repaying and borrowing to and from neighbors and relatives; and participating in a wide variety of income generating activities. Needs among Nuru farmers included the inability to cope with economic shocks due to low levels of income; limited access to and use of formal and informal rural financial services during times of surplus income; and poor savings and financial management practices.
The result of the SNA will help to develop Nuru Ethiopia's Community Economic Development Program by the end of 2014 to ultimately help farmers cope with economic shocks and equip them to be able to make meaningful choices with their personal finances.
________________
1 Iddir is an informal insurance arrangement used primarily for funeral expenses. Aredo D. (2010). The Iddir: An Informal Insurance Arrangement in Ethiopia. BDS-Center for Development Research. Savings and Development, 1 XXXIV.
About Jamie Frederick
Read More Stories of Hope