When Locals Are Ready to Lead
In June 2015, Nuru hit a major milestone that was seven years in the making: Nuru International's expat team exited Kenya, leaving behind a fully functioning and locally owned and managed organization dedicated to ending extreme poverty in Migori County and across Kenya. When the first expat team settled in Isibania in 2008, the goal was to exit within five years, that is, in 2013. A five-year exit goal seemed reasonable at the time but without a specific exit strategy, a dedicated Leadership Program, and no indicators to track progress and mark readiness, in 2010 Nuru adjusted the exit target to 2015.
Launching the Nuru Leadership Program
2010 was also when the planning for the Nuru Leadership Program began. This program was created by combining research on the development and leadership sectors and deepening our understanding of marginalized groups, facilitation, training and East-West and North-South power dynamics. We applied this research to the experience we gained during our first two years in Kenya in order to develop foundational pillars for the Nuru Leadership Program along with a comprehensive methodology and process to ready the Nuru Kenya teams for expat exit.
Nuru Kenya piloted the Leadership Program in March 2011 with the first four training team members, preparing them in facilitation skills as well as familiarizing them with the first training, Basic Nuru Leadership Training (BNLT). The training team facilitated the first BNLT in April 2011 with a cohort of Nuru Kenya leaders representing all impact programs, M&E and the Country Director.
Developing Early Nuru Kenya Leaders
After the initial success of this pilot training, the Leadership Program put together several training series and trained most of the staff throughout 2011 and 2012. As Nuru Kenya team members proved their abilities to use skills in feedback, teambuilding, planning and management and were growing as servant leaders, we became more confident that by 2015, expats should indeed exit Kenya. The challenge, though, was how would we really know when the locals were ready to lead independently? Would it be a subjective conclusion? Therefore, our team began brainstorming exit criteria with the M&E team in the summer of 2012. The Nuru Kenya Leadership Program had already created a Logic Model with M&E earlier that year and had an idea of how to evaluate the program, but not as a tool to inform local team's readiness for expat exit.
Determining Leadership Readiness
Beginning in late 2012 and into 2013, we created the Leadership Sustainability Index (LSI) to provide a more objective view of the leaders running the local projects. We set targets and applied them to the data that we already had in Kenya. We made plans to collect the rest of the data needed through various capacity building and evaluation efforts. The LSI would be reported through a Readiness Dashboard via a red, yellow and green color scheme:
Red = staff not ready for Nuru International exit
Yellow = staff progressing towards Nuru International exit
Green = staff ready for Nuru International exit
X = no staff at that level
The first Readiness Dashboard was prepared in December 2013 for Nuru Kenya. Different formulas were used to calculate the Level (staff positions within a given program), Program and Country Readiness Profiles.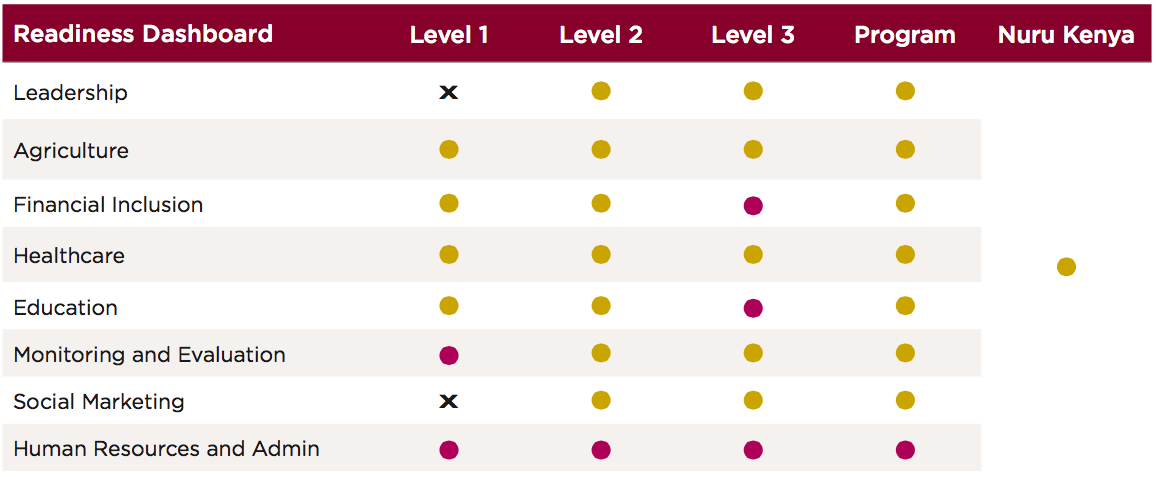 As this was the first iteration, we eventually retooled the LSI to better capture the wide range within the yellow scope, to calibrate and match with capabilities of teams and to make it more resilient to staff turnover—especially for upper level 3 staff.
Here's the Nuru Kenya Readiness Dashboard as of July 2015, which indicates that five programs are green and the country project as a whole is also green, complementing the decision for expats to exit from Kenya.

Nuru Kenya, Three Months After Expat Exit
Nuru Kenya has progressed well since expat exit, beginning operations in a new sub-county within the district and incorporating graduation activities to make operations more efficient. The expats still have a close relationship with Nuru Kenya via regular calls and a site visit scheduled for this October. Nuru International advises on various activities while the Nuru Kenya Leadership Program continues to facilitate trainings and track M&E data for the Readiness Dashboards. Nuru Kenya will share with Nuru International a more comprehensive Leadership Capabilities Report in Q2 2016.
About Thomas Hong
Leadership Program Director — Thomas has worked in education and leadership development in Afghanistan, Ethiopia, Kenya, India, Mongolia and Uzbekistan. He holds a B.A. in Economics and master's degree in teaching from the University of Virginia and an MBA in international organizations from the University of Geneva.
Read More Stories of Hope