Why is servant leadership important to Nuru?
Feature photo: Nuru Kenya Country Director Pauline Wambeti visiting the home of a Nuru farmer.
Servant leadership is one of Nuru's values. Nuru seeks to attract and develop leaders who are trustworthy, fair and authentic, and who rally and lead themselves and others to create a world free of injustice. We believe it is essential for Nuru leaders to have this mindset in order to be best positioned to tackle and achieve our ambitious goals.
The concept of servant leadership goes back many years. Lao Tzu wrote about it as far back as 5th Century BC in China. The modern idea and its popularization are attributed to Robert Greenleaf and his writings from the 1970s. In Greenleaf's essay, The Servant as Leader (1970), he explains that servant leaders "serve first" contrasting a leading first mentality. The Robert K. Greenleaf Center for Servant Leadership summarizes this view on their website (retrieved 16 September 2015):
A servant-leader focuses primarily on the growth and well-being of people and the communities to which they belong. While traditional leadership generally involves the accumulation and exercise of power by one at the "top of the pyramid," servant leadership is different.
From Nuru's inception, servant leadership has been a guiding principle of our leaders. The leaders in our projects in Kenya and Ethiopia are expected to embody servant leadership as well as our team in the states. It is taught in training classes and workshops and evaluated formally and informally. Because it is one of our pillars, Nuru has developed its own Servant Leadership Framework (featured below) to establish a common language, to set expectations, and to guide training for our leaders.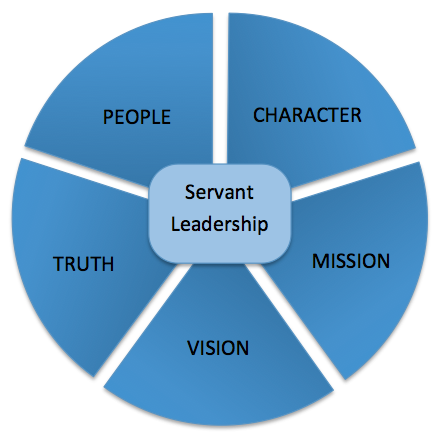 This framework summarizes the five tenets of servant leadership at Nuru:
People: Servant leaders put the needs of others before their own
Character: Servant leaders display characteristics that garner respect from those they lead as well as external stakeholders
Mission: Servant leaders are driven by a mission to accomplish good outside of themselves
Vision: Servant leaders understand that a better world is possible and are motivated by being a part of creating it
Truth: Servant leaders recognize the importance of being authentic and transparent in how they lead
The mission to ending extreme poverty will take many service-minded leaders who promote the needs of all people especially those living in poverty. Nuru places a premium on leaders who have this mindset and works to develop these characteristics throughout our organization.
To learn more, read examples and stories of servant leadership at Nuru throughout the years:
About Thomas Hong
Leadership Program Director — Thomas has worked in education and leadership development in Afghanistan, Ethiopia, Kenya, India, Mongolia and Uzbekistan. He holds a B.A. in Economics and master's degree in teaching from the University of Virginia and an MBA in international organizations from the University of Geneva.
Read More Stories of Hope