Jane Omanga's First Anniversary with the Nuru Kenya Leadership Program
Jane Omanga, Nuru Kenya's Leadership Program Manager, shares reflections on her first year with Nuru.
Leadership is one of the programs in Nuru focused towards staff development. A little over one year ago, on April 4, 2013, I was new to the staff in the Leadership Program as the District Manager. Now as the Program Manager, I am celebrating my one-year anniversary.
My first month with Nuru Kenya involved a lot of onboarding and management, leadership and working with the team. Things seemed very new to me and I wondered how fast I would get to understand Nuru's approach to leadership. I was patient and wanted to gain knowledge but at the same time I was eager to take more responsibility and implement new initiatives.
Three months elapsed and I felt somehow fit to take up my tasks which I was enthusiastic about. The challenge came when I had to onboard the new Program Facilitator as the former one was leaving. Even though I wasn't fully comfortable in my new position, I still took up the challenge with a positive outlook. At this time, I took the full responsibility of managing the leadership program with support from the rest of the team.
In the third quarter of 2013, I felt more confident and as I realized where the program needed to move, I decided to roll out several new training series. In addition to the initial trainings which were already in place, I worked with the team to roll out the Training of Trainer, Project Management and Communication series. I also worked with the Computer Training Manager to improve the computer training for the staff. I have received a lot of support during this period from both the expat and local team.
There were a lot of new trainings in the Leadership Program and this meant that to realize our program goals, I had to work to motivate the leadership staff and help them feel motivated to deliver. I therefore strengthened career development opportunities for the team, including field visits, staff team building retreats and motivation meetings.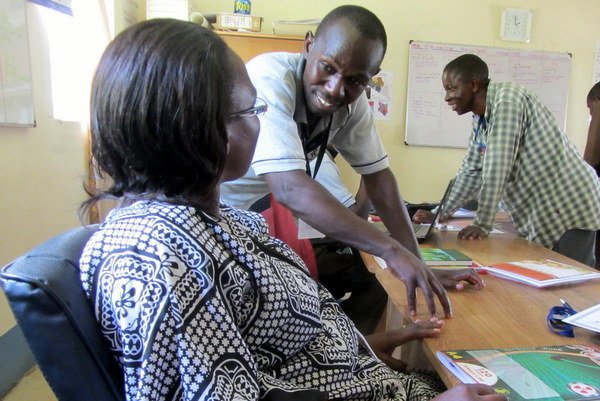 Jane with Paul, Nuru Kenya Leadership Training Manager
Managing the Leadership staff has been challenging but inspiring as well. The challenges included changing of titles for the staff, new roles and responsibilities, introducing new policies and coordinating with other programs. What helped me overcome these challenges and achieve my goals was making sure that I follow the Servant Leadership philosophy that is so important here at Nuru. During my time at Nuru, I have been able to learn many things. I have learned several new management and strategic planning tools which has helped me feel confident in my abilities to help the team grow and achieve our goals.
As I mentioned earlier, the past year has been full of many challenges and successes but the key thing I have learned in building a strong team is to consult with them, listen to the views of the team, seek to understand and be patient with them. This has made me build a strong relationship with the Leadership team, expat and other program staff.
During my first year with Nuru, I have definitely learned a lot. I could not have learned these things on my own, but the Leadership Team and entire Nuru staff has done it all together.
About Brian Viani
Leadership Program Strategic Advisor — Born and raised in New York City, Brian has a BA in Political Science and English Literature from the State University of New York at Binghamton and an MA in International Relations from New York University, where he received the 2011 Lauren Moilien Johnson Human Rights Award.
Read More Stories of Hope