Bravo to all the fathers and fathers-to-be!
Most of the tribes in Kenya once identified fathers as the providers, symbols of protection and influencers, but times have changed. Fathers now assume more roles like cooking for the family, taking care of the children, and washing the baby's clothes.
I recently paid a visit to a friend of mine who had just been blessed with a baby girl called Joy in the outskirts of Kisii town in Kenya. While visiting, I had a conversation with him during which he shared with me how much his normal routine had changed since Joy came into his life.
"She is such a blessing to me, and I always long to meet her after work. It is so amazing being a father and I am proud to be one. She has taught me the value of time because I have to find time to spend with her after work and during weekends as well as holidays. Fatherhood comes with a sense of worth, responsibility, and sacrifice; and this is all I am striving to do in order to secure the future of my princess," he said with a wide smile on his face while holding the little girl in his arms. I could see the happiness in him and the satisfaction that fatherhood had brought to him.
It was during this visit that I remembered my own experience as a young dad, blessed with a handsome baby boy named Prince. It was confusing and frustrating during the first few days of Prince's life. I remember waking up several times throughout the night, especially when Prince would make a slight movement. During the day it was hard for me to stay awake and I struggled a lot but I did not give up. I was determined to serve my community, to provide for my family, and I intended to make sure that Prince attended to the best schools and had the best life possible. Though I went through these difficult times, I have always been happy to be called a dad. I am sure the smile on my face when I see baby Prince crawling toward me in the evening after work explains to the world that indeed I am happy to be a father. It is the experience of a lifetime and has helped me to be grateful to my own father for the sacrifices he made to ensure that I grew to be the best in the world.
The journey of fatherhood starts the moment you hear the good news from your partner or doctor that she is expecting a baby. This is the stage during which you prepare yourself psychologically to receive the baby and realign your normal routine to walk the journey of pregnancy with your partner. As a partner, you support her to adapt to the sudden change in her tastes, preferences, and emotions. When the baby is born, it is the best news of the moment! This is the time when you first realize what every father knows: bringing up a child requires more than providing for them.
In my work with Nuru Kenya Healthcare Program, I have discovered that the role of fatherhood is very critical in ensuring we raise healthy children in our communities. During my home visits to our Nuru farmers, I realize that fathers play a key role in adoption and maintenance of healthy behaviors that have been identified to improve maternal and child health. Fathers can help by supporting and encouraging mothers to take children for immunization, constructing family latrines, providing moral support for breastfeeding mothers, and ensuring the family eats a balanced diet and gets frequent medical check-ups.
During my regular home visits I had the opportunity to meet and interact with two married Nuru farmers who have been blessed with children: Jared and Joseph. This is what they had to say about fatherhood, "Being a father is the best task that I ever received, although the expectations from the society are numerous, I have ensured I always do my best to be the best father."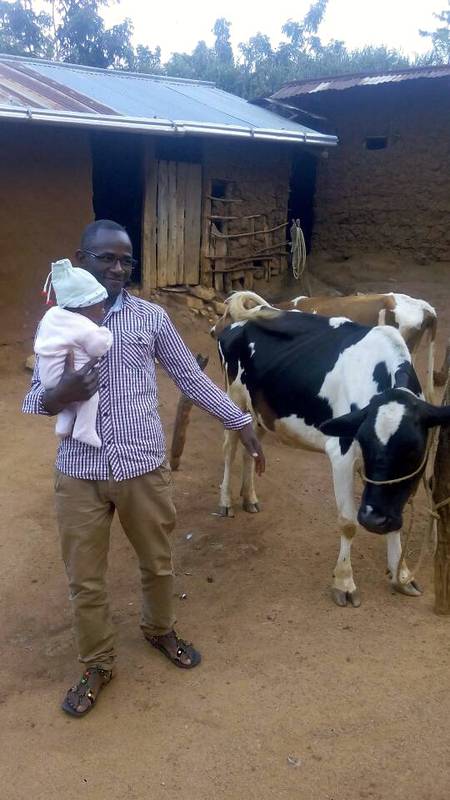 I remember Joseph saying that to him, fatherhood means leadership and that he has had to use the Nuru Kenya servant leadership module to guide him in his roles as a father. The Nuru leadership teachings have trained him to be humble, gentle, understanding, a good listener, and role model to his family and community. He pointed out that fathers should be celebrated because they sacrifice a lot to see that their families are healthy and strong. He argued fathers should not undermine their position in the society and those who are experiencing challenges should seek support from successful colleagues because with being a good father comes satisfaction.
Just think about this, "No success can replace failed fatherhood."
Bravo to all the fathers and soon-to-be fathers this Father's Day!
About Victor Charo Simon
Nuru Kenya Regional Training Coordinator—Prior to joining Nuru Kenya, Victor served as a public health officer with the Ministry of Health, where he led the community health workers and natural leaders in implementing the community health strategy. He has wide experience in water sanitation and hygiene activities, home-based care and support for people living with HIV, and maternal and child health. Victor has a bachelor's degree in Environmental Health Science from Makerere University, Uganda, and certificates in Epidemiology and Biostatistics from the University of Washington/University of Nairobi, and in Project Planning and Management, Dynamic Leadership, Financial intelligence from World Vision.
Read More Stories of Hope