Water Purification Toolkit for Rural Kenya Community
In the midst of restructuring team dynamics, retraining and revisiting homevisit strategy, it may seem that we've put on hold our primary and imminent responsibility of getting into the field to provide the community with the tools to help prevent and mitigate diseases. But to the contrary, we have diligently been planning and patiently waiting to unfold the newest elements of the program once we were confident it would be successfully rolled out.
CHWs (Community Health Worker) aim to encourage healthy behaviors by showing value and ease of adaption. Their 'toolkit' ranges from disease specific knowledge to problem solving tactics to physical means of preventing illness and improving health.  Now that the team is building their skills to listen intently, advise appropriately, and share knowledge in memorable, efficient and effective ways, we have officially added an ingredient to the third, tangible component- commodities!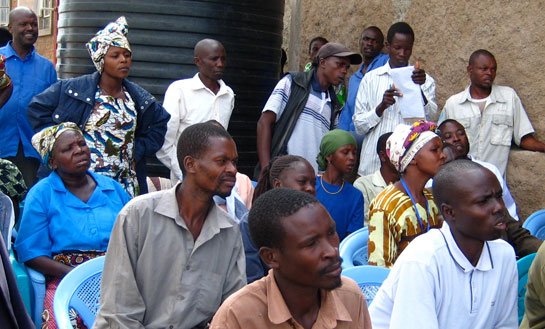 Introducing…..WaterGuard & Pur
Last week we finalized our partnership with Population Services International (PSI/Kenya). PSI/Kenya works to improve health conditions for Kenyans in seven out of the eight provinces and has built a network of more than 5,000 commercial partners that help enable low-income and vulnerable Kenyans to lead healthier lives. PSI offers WaterGuard and Pur, two safe and effective, low-cost alternatives to boiling and filtering contaminated water, reducing the risk of diarrheal diseases – a leading cause of under 5 mortality.  PSI/Kenya estimates that between January and October 2008 its products and services helped avert 19,707 diarrhea episodes. As distributors, promoters and educators, Nuru's Healthcare and Water and Sanitation Teams will work with PSI to increase access to safe drinking water in Kuria West.
WaterGuard is a dilute sodium hypochlorite (chlorine) solution used to disinfect water at the household level. One capful of solution treats about 20 liters of water, about the size of most containers used to obtain and store water. The solution is easy to use and extremely inexpensive —a bottle typically costs less than thirty cents to protect a family of six for one month.
PSI's reputation for excellent training was once again corroborated when they joined our Healthcare and Wat/San Field Teams and CHWs to run through the how to's and myth busters that will enable our educators to properly distribute the safe water systems.
See how PUR purifies water in this video.
Coming soon… Moringa Leaf Powder:
CHWs will also soon be selling the powder form of what has been dubbed, "the miracle tree," which contains a serious amount of vitamins and antioxidants, plus all of the essential amino acids.
Studies conclude Moringa can:
Boost the immune defense system
Increases CD4 count in those with HIV AIDS
Lower blood pressure
Help children maintain or increase weight
Help pregnant women recover from anemia and had healthy babies
Promote muscle relaxation to increase sleep time
Added to carrot juice it will work as a diuretic to increase urine flow
Increase milk production in breast-feeding women
Balance blood sugar levels
About Lindsay Cope
Read More Stories of Hope