Water Access Restored to 1,000 Households
As I reflect on the exciting nature of the past three weeks—the sound of water filling a 100,000-liter tanker which had been empty for 8 years, community members cheering at the site of clean water flowing out of water sources that hadn't worked for 5 years and jerry cans of all sizes waiting to be filled—I think back to when Nuru Ethiopia Healthcare began this portion of our program.
---
Over the past three weeks, local water infrastructure artisans, community members and woreda (county) and zonal Water and Mining officials came together to restore easy access to clean water for more than 1,000 households in Nuru's target kebeles (towns) in Boreda, Ethiopia.
Eight months ago, Birhanu Olle, our newly-hired WASH and Nutrition Field Officer and a native of one of our target kebeles, often found himself with Zelalem Abera, Nuru Ethiopia's Healthcare Field Manager, to discuss the importance of Nuru's philosophy: that program activities should abide by our quality solutions criteria (QSC) of impactful, sustainable and scalable; and how to ensure our newest endeavor adhered to these criteria.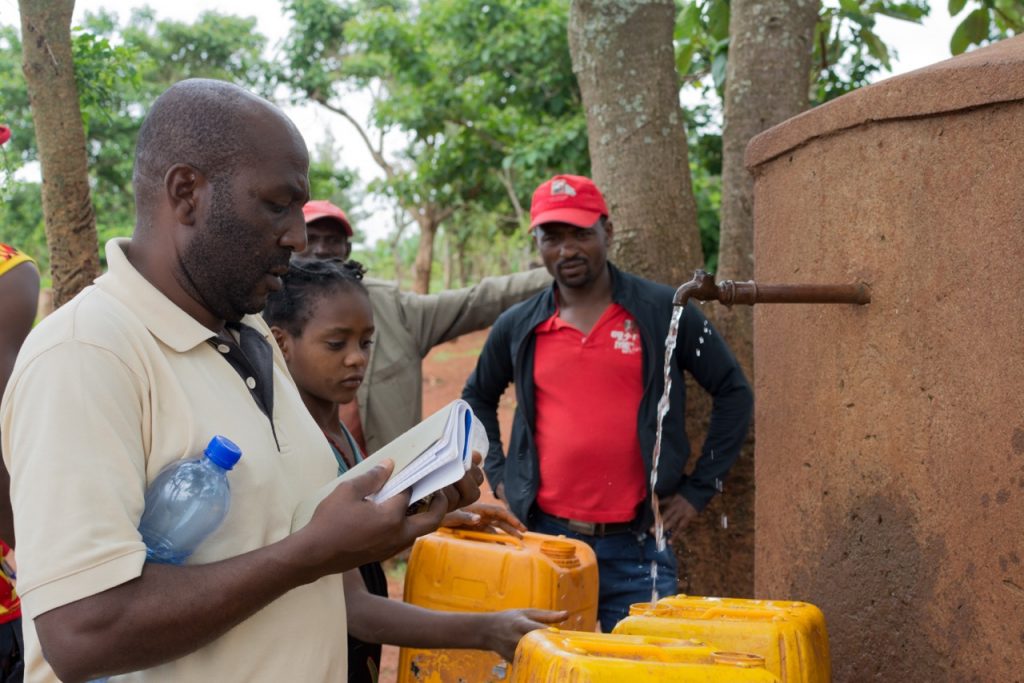 Understanding that community buy-in is a cornerstone for sustainability, Birhanu first set off to work with the Boreda Water and Mining Office to identify functioning and non-functioning water committees. Committees were made up of community-selected members responsible for water sustainability in their kebeles within the existing local government structure.
Our team identified a major barrier: water committees that were inactive or unqualified were unable to garner support from the woreda Water and Mining Office, thereby leaving hundreds of households with non-functioning water sources. Replacing committee members with personnel who were both community accepted and well qualified would be the first necessary barrier to overcome.
Between October and December 2015, Birhanu worked daily with an assigned Boreda Water and Mining Office expert to call communities together to discuss selecting active and responsible community members to assume a position in their kebeles' water committee. Once formed, these water committees underwent trainings on topics spanning from appropriate savings techniques to water sustainability to community mobilization.
"The importance of the training was to show the water committees how they can be sustainable. Nuru Ethiopia will not be here forever. We worked to figure out a way to ensure their sustainability. We also taught water committees how to manage their monthly collection from the community—how they can fix these water sources on their own without external body interferences." Birhanu Olle, WASH and Nutrition Field Officer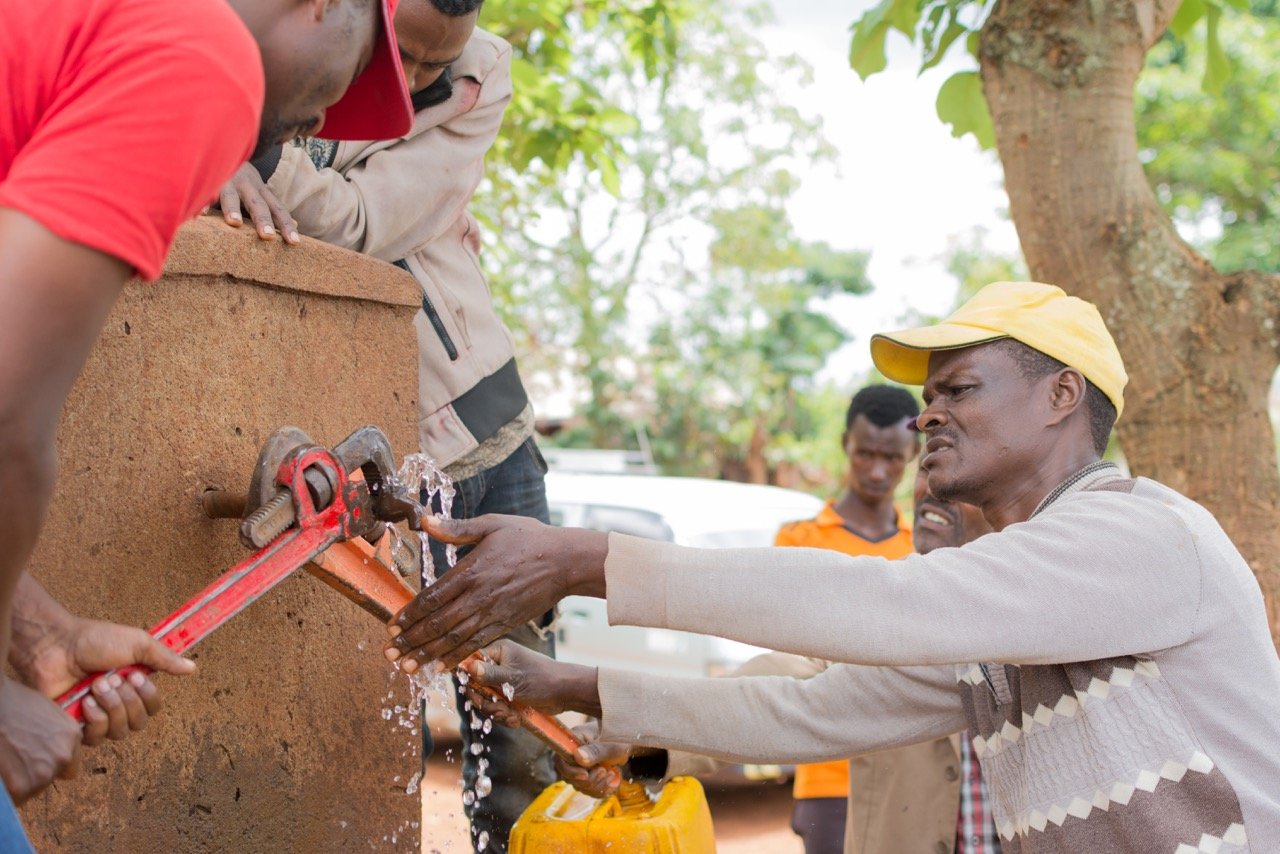 Immediately after and since these trainings, water committees have called community members together at least twice a month to collect money for the repair of water sources, discuss upkeep of current water sources and provide a forum for community members to raise issues and concerns with Boreda Water and Mining Office experts. The latter was an especially important development, being that the formerly fractured and neglected relationship had resulted in a major barrier to repairing water sources. Boreda Water and Mining Office experts had not previously visited community meetings since the majority of water committees were inactive and often had trouble organizing the community.
Outside of the time water committees spent leading community meetings, they met with Birhanu and Boreda Water and Mining experts to survey and prioritize the repair of water sources that would impact the largest population per kebele.
In total, the water committees and Boreda Water and Mining Office selected two water sources from each of our seven target kebeles for repair or improvement.
As we approached our eighth month working together on water issues with the community, the equivalent of state and county water officials, local water committee artisans and community members came together for both the theoretical and practical aspects of water source repair.
Acquiring support from the Zonal Water and Mining Office for the Boreda Water and Mining Office alleviated a number of barriers as the zone possessed training materials, qualified trainers and resources required by the woreda to fix their water sources.
Amelioration of this relationship was fascinating for all parties involved as a resource-challenged, but qualified and motivated Boreda Water and Mining staff coupled with a resourceful, but fatigued zonal office promoted a trusting, sustainable relationship for future endeavors.
Nuru Ethiopia Leadership set the stage by delivering an impactful training focused on Nuru's servant leadership principles and their connection with water sustainability.
"This training is a great opportunity for the Leadership Program and the Healthcare Program to work together in the spirit of integration. The training was about servant leadership and ownership creation. This will help the artisans to think in a sustainable way and change their way of thinking. We introduced the key aspects of servant leadership characteristics—fundamental to our programs. Without this servant leadership training, next year we might find that the water sources will not be maintained. This training helps bring that behavioral change that will allow these artisans to sacrifice for the community." Temesgen Berihun, Leadership Training Field Officer
Beginning with the main bono (source spring) in Gurame Wolko kebele and continuing on throughout the remaining six kebeles, water committee artisans, community members and Boreda Water and Mining experts, all guided by Zonal trainers, immersed themselves in learning how to repair or improve a variety of water sources. The local artisans were well received. Buna (coffee) and chai (tea), the provision of which marks friendship and respect, were provided by the community as a thank you for the restoration of clean water. The community contribution didn't stop there.
Community members applied their knowledge of their community to help artisans find locations of breaks in the water lines and assisted in the digging up of water lines deep within the earth.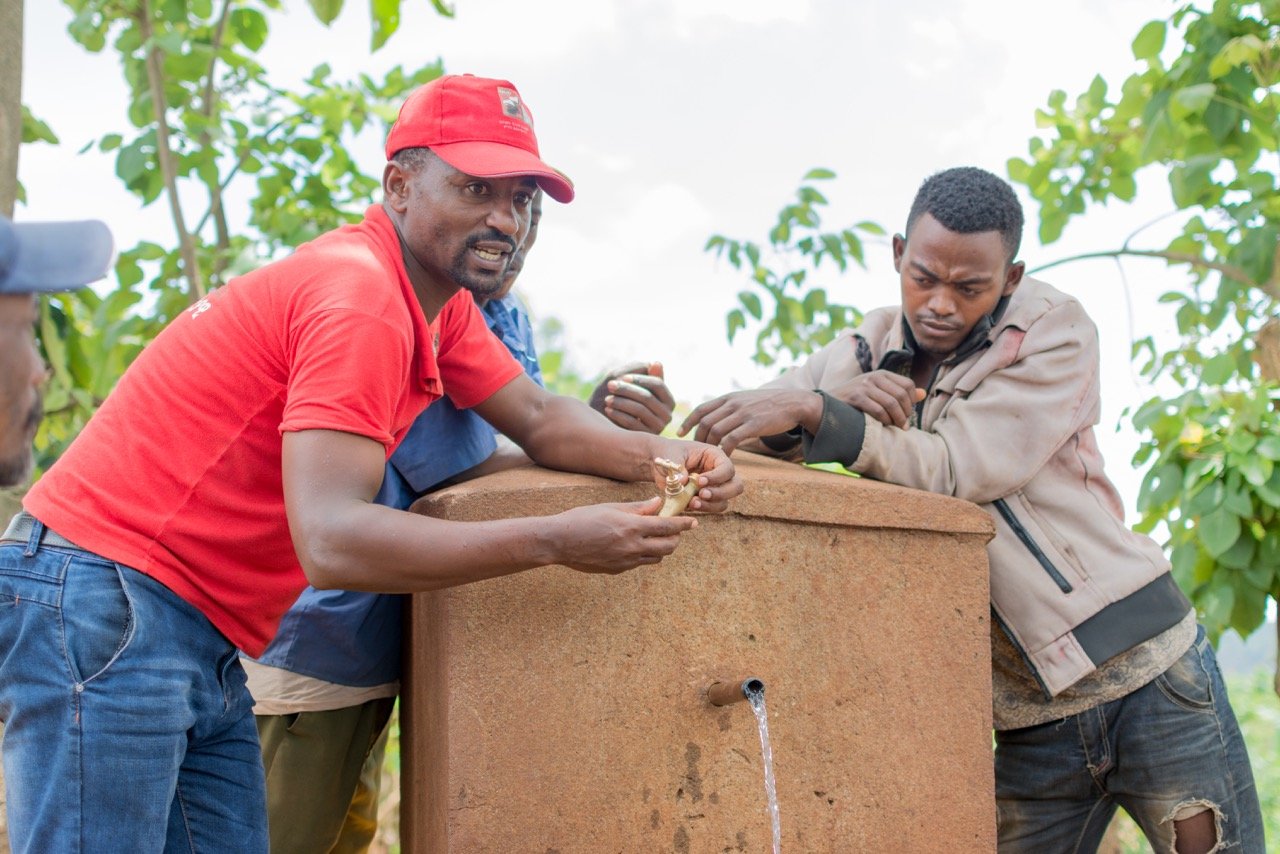 "I'm very happy to see water in Gocho cluster again. Before I worked at Nuru Ethiopia, I worked in Gocho Health Center. I know how much suffering was ongoing. There was no safe access to clean water and diseases associated with unsafe water were common. These problems are a thing of the past though. We have had the artisan training, awareness raising in the community, and now water sources are providing clean water again." Birhanu Olle, WASH and Nutrition Field Officer
In the end, 18 water sources including hand pumps, distribution tankers and faucets began flowing with clean, treater water.
Conversations with community members in Dubana Bulo kebele, many of whom are a part of Nuru households, moved from retelling accounts of the 4-5 hour walk to the nearest, often untreated, water source to telling accounts of now walking minutes for access to clean, treated water.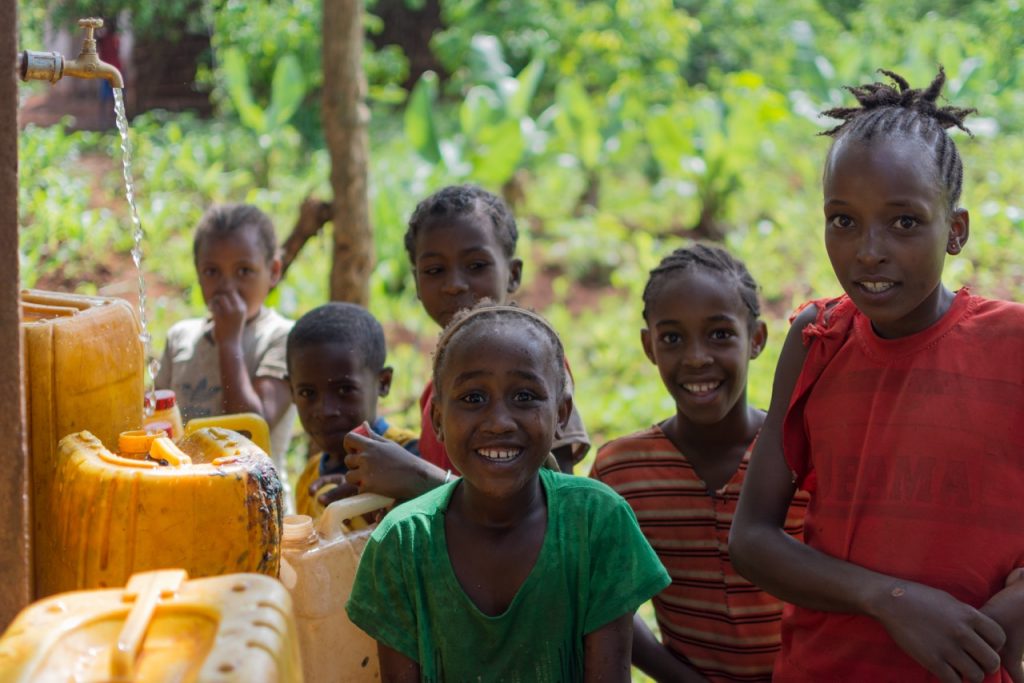 Cluster health centers in Zefine Menuka and Gocho now have access to clean water.
Local leaders are equipped with the knowledge and ability to maintain and repair a wide-variety of water sources and have a newly-nurtured relationship with the Boreda Water and Mining Office.
Water committees are eager to continue to impact their communities.
Entire communities watched local leaders step up, full of agency.
Impactful. Sustainable. Scalable.
About knascimento
Kevin comes to Nuru after serving as a Peace Corps volunteer in Ghana for three years ('11-'14). Of those three years, the first two were spent teaching Biology and Chemistry at the second cycle level in Awiebo-Aiyinase during which he was awarded the National Best Teacher Award – Foreign Service Category by the Office of the President and Ministry of Education. His final year was spent serving a local educational non-profit in Accra, Ghana where he trained teachers and taught students across the nation to participate in national and international events. His efforts helped Ghana remain the only African country to participate in the Scripps Spelling Bee in the U.S. Kevin earned his BA in Cell and Molecular Biology from the State University of New York at Binghamton.
Read More Stories of Hope