Community Health in Ethiopia Through servant leadership
The heart of the Thanksgiving holiday and living out servant leadership walk hand in hand in my mind: both are a posture of gratitude helping us remember what we are thankful for and to put the needs of others above our own.
Servant leadership was a focus at the recent joint Maternal and Child Health (MCH) Nuru Ethiopia and Ministry of Health training.The Nuru Ethiopia Leadership team guest-facilitated the modules introducing servant leadership to both Government Health Extension Workers and their supervisors.
The training was intended to lay groundwork up and down the chain of command for disease prevention workers and volunteers to promote responsiveness to the needs of community households.
Participants were introduced to the basic characteristics of servant leadership. Servant leaders strive to:
put the needs of others above themselves,
be together with their people,
lead by example,
keep learning,
be humble,
treat people equally,
give good feedback,
be responsible,
have integrity,
and be real.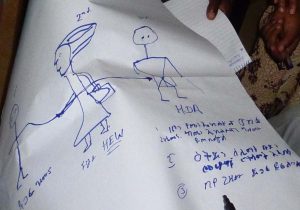 During the training, participants discussed how they can bring these ideas to life in their work to help prevent disease and promote health in the community. They broke into small groups and drew pictures representing the different roles of health promotion professionals including themselves and those they are managing and those who are managing them. With the drawing came in depth conversation and presentations on how using servant leadership can effect each of the relationships and the entire system down to the households.
The application of Nuru servant leadership principles help create an atmosphere where meaningful links can be fostered between the different levels of health promotion workers. Creating these links is one of the key areas of need that was identified in the Healthcare Program Planning Process strengths and needs assessment. The next steps in this training are underway, and we are preparing to cascade this training down to the volunteer Health Development Army and then to the households. This is only the beginning. Servant leadership training will be woven into the future health topic trainings and it will become part of the follow up conversations facilitated by Nuru.
As I sit down to Thanksgiving supper this year I will recommit, ever learning, to using the characteristics of servant leadership in my life, being with my people, giving good quality feedback, being humble and real even as I think about my colleagues at Nuru Ethiopia and their commitment to servant leadership. What a gift to be able to share those lessons with the wider group of disease prevention professionals in Ethiopia this year.
At Nuru, we are committed improving ourselves by practicing servant leadership to improve our services to Nuru Ethiopia households and help them find ways to avoid unnecessary disease and death in the long run.
About Athena Childs Fleisher
Healthcare Program Strategic Advisor — Athena comes to Nuru after more than a decade in the fields of international public health, disaster risk reduction, microfinance, and social business creation. During graduate school, she earned both an MBA and MPH from the University of Arizona.
Read More Stories of Hope