Nuru International Launches Running Club
Every year since 2013, runners from across the US have partnered with Nuru International to raise awareness for farmer families who are living in extreme poverty while running the Marine Corps Marathon. Runners gather together in Washington, D.C. each year to challenge themselves mentally and physically at the People's Marathon while shining a light on Nuru farmers and fundraising to support long-term meaningful choices in fragile rural communities in Kenya, Ethiopia, and Nigeria. In the last nine years, runners have come together to raise more than $150,000 for Nuru International!
Running events go virtual
Last year, due to COVID-19, the Marine Corps Marathon hosted its first virtual-only race in its 46-year history. Nuru International runners took to the trails and streets of their hometowns and completed their races solo. This year, as the pandemic continues to wreak havoc around the globe, runners will continue running virtually. Nuru International is now connecting runners from across the country and around the globe to run in support of Nuru farmers through the launch of the Nuru International Running Club. 
Together, members of the Nuru International Running Club are running a variety of events between now and the end of 2021, participating in 5ks, marathons, ultramarathons, Spartan races, and more. With this platform, the team is sharing the impact of Nuru's work, highlighting the more than 140,000 people who have benefited in Kenya, Ethiopia, and Nigeria. As runners train for their upcoming events, they have been fundraising to support continued work with Nuru farmers.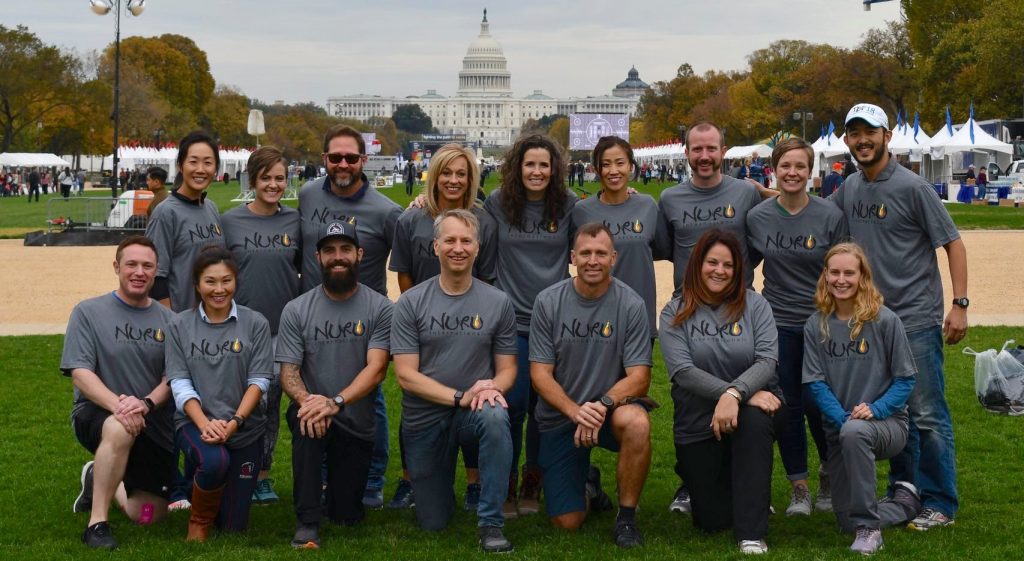 Nuru International Running Club members commit to running and fundraising goals
The Nuru International Running Club has a team goal of raising $35,000 by the end of this year, and each runner has committed to their own personal fundraising goal to contribute to that effort. As each runner trains for their running event, they share their fundraising pages with friends, family, and coworkers, asking for support in crossing the finish line on their fundraising goal. Runners are supported in their fundraising efforts through the learned experiences of other members of the Nuru International Running Club as well as by a Nuru International staff member dedicated to coaching them through the fundraising process.
Nuru International is part of a nonprofit ecosystem creating a more just and equitable world by incubating locally-led, owned, and sustained organizations in sub-Saharan Africa. These implementing organizations – Nuru Kenya, Nuru Ethiopia, and Nuru Nigeria – cultivate enabling environments for stability and economic opportunity. Through solutions customized to their unique contexts, the Nuru ecosystem helps rural communities lift themselves out of extreme poverty by equipping farmers to build resilience to unwavering shocks, moving from farming for subsistence to thriving farmer-owned and -led cooperative agribusinesses. 
Want to join?
Nuru International is still looking for more runners* who are willing to participate in a running event during 2021 and to fundraise with other members of the running club. Runners of all speeds willing to run a variety of distances are invited to join the fight to end extreme poverty. For additional information, please provide us with your contact information. 
*If you are not interested in running, but would like to cheer on the Nuru Running Club as they strive to raise $35,000 together, you can make a donation here. 
About Tacy Layne
A lifelong West Virginia resident, Tacy graduated from Fairmont State University in 2012 with a bachelor's degree in English. Following graduation, she worked as a marketing administrator for an advertising publication. In 2015, inspired by travel to Malawi, Africa, Tacy began work in the nonprofit sector as a writer/editor for an international nonprofit organization dedicated to addressing the orphan crisis. Moved by the realization that extreme poverty is the leading cause of family disruption, Tacy joined Nuru International in 2018 to support fundraising efforts, donor relations, and communications. In her spare time, she enjoys training for marathons, whitewater rafting, skiing, and occasional foraging. 
Read More Stories of Hope