Nuru Kenya helps teachers adopt new literacy training techniques
Teachers in Kenya do not get many training opportunities once they are assigned to schools. This means they aren't always exposed to the latest, innovative teaching techniques.
That's why Nuru Kenya Education put on a two-week teacher training during the break between Term 1 and Term 2 of the 2016 school year: to help teachers catch on best practices in teaching literacy.
Our overall goal was to improve public school teaching and help pupils "learn to read" and "read to learn."
We held training in three divisions of Kuria West District in Migori County and introduced core Nuru principles, such as how to practice servant leadership and how to give and receive feedback. Each of our 18 partners schools sent 6 teachers, who were approved by Ministry of Education, to attend the training. A total of 107 teachers attended and completed training. The teachers were very active and very enthusiastic to gain the new knowledge offered by Nuru Education.
Each teacher signed an MOU (memorandum of understanding) that entailed what would be offered by Nuru Education during the training and what was expected of the teachers during and after the training. Teachers had opportunities to implement what they had learned for two weeks through micro teaching and role plays.
Our training covered the three modules:
Introduction to Nuru Philosophy: Teachers learned how Nuru Kenya works holistically and how they can give and receive feedback from their colleagues and pupils. Above all, teachers learned the principles of servant leadership.
Literacy Strategies: Teachers learned what literacy is, how to link literacy and academic performance and the role of teachers in improving the literacy skills of pupils. They also learned about phonemic awareness, phonics and sight words, fluency, vocabulary instruction and reading comprehension.
Nuru Education Strategies: Teachers learned the tools Nuru Education uses for monitoring and evaluating literacy like the Uwezo assessment tool, classroom observation tool and the Learners Monitoring tool. They also learned the literacy strategies used by Nuru Education, such as blending, segmenting, think pair and share. These strategies really impressed the teachers!
Our team had a chance to interact with the teachers during the training on a personal level, and they felt appreciated by the teachers.
Throughout the training, teachers acknowledged Nuru Education's competency and also appreciated learning how to teach the pupils without using corporal punishment.
Nuru Education received much feedback from the forms teachers filled out on daily basis. We learned that some teachers hadn't had much experience on the strategies we taught. Here are some of the thoughts that teachers expressed:
"I have learnt a lot of learner centered methodologies that will help me teach well English lessons in school." – Peter Nyaking'ombe of Biamiti School

"I have learnt that feedback is important and makes one improve his performance. I had not known that feedback can be given to those who are in senior positions and even learners." – Fred Mwita of Gosese School

"I did not know that Nuru had this good knowledge and skills that will help us as teachers in teaching those who do not know how to read." – Joseph Gitwi of Nyamwini School
During the training the Sub-County Director of Education Mr. Robert Onkoba visited all the centers and addressed the teachers during the training. He encouraged the teachers to take the training seriously and use the techniques acquired from training to assist the learners in their respective schools.
At the end of the two-week training, the teachers received certificates signed by the Nuru Kenya Country Director and the Sub-County Director of Education. The certificate provides official recognition from the Kenya Ministry of Education and gives teachers a better chance for promotion in the future.
Nuru Education looks forward to teachers implementing all they learned to improve learners' progress!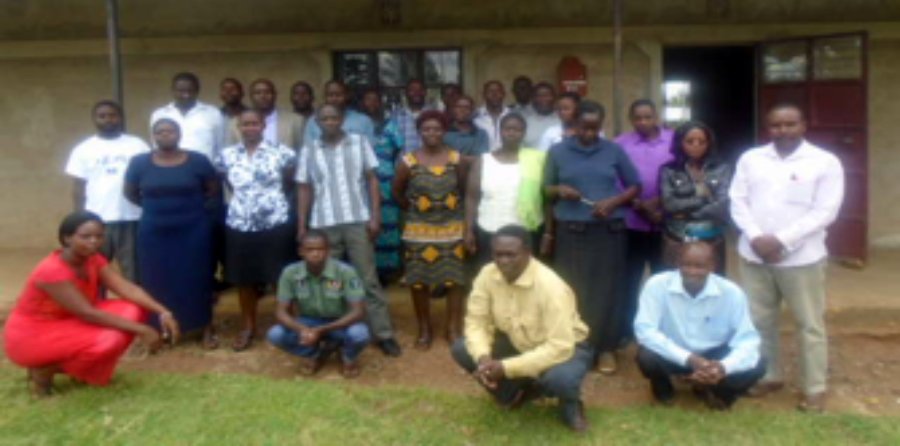 About George Baridi
Education Program Manager—George Baridi earned his BS in Education from St. Mary's University in Minnesota. He also earned a Diploma in Project Management from the University of Cambridge and a Diploma in Library and Information Science from the University of Nairobi. George has worked as the Program Director in Zambia for Koinonia Community, as the Education Programme Manager for AMURT International, South Sudan, and has consulted with NGOs in Uganda and Tanzania. Currently, George is pursuing a Masters in Community Development at Egerton University.
Read More Stories of Hope