Nuru Kenya and Nuru Ethiopia Exchange Ideas in Experience-Sharing Visit
In late October and early November, a segment of the Nuru Ethiopia staff made a journey to Isebania, Kenya to learn about the Nuru Kenya program. The Nuru Ethiopia Agriculture team was able to see a Nuru program in full implementation – on the field, in the office, and in the professional efficacy of a seasoned staff. By spending time on farmers' shambas[1] and asking critical questions to Nuru farmers and non-Nuru farmers, the Nuru Ethiopia staff was able to see a glimpse of what a matured Nuru agriculture program looks like. It gave us the opportunity to compare the shambas of Nuru farmers with the shambas of non-Nuru farmers. Most importantly, the Nuru Ethiopia Agriculture team was able to learn what kinds of mistakes to avoid and what kinds of strengths to build on based on the experiences they shared with the Kenyan Agriculture team, farmers, and other team members in Kenya. In the following, I will explore some of the critical lessons the Nuru Ethiopia Agriculture team learned on our visit to Kenya and how we plan on incorporating those lessons into our program as it goes into implementation and continuously evolves.
Be Innovative
After more than five years of experience, Nuru Kenya's Agriculture team is joining with Social Enterprises to find innovative ways to turn farmers into good businessmen and key players in the sustainability of the Nuru Kenya program. They are working with cash crops such as African bird's eye chillis (Capsicum annuum) and Grevillea (Grevillia banksii) to help generate income for farmers and for the Nuru Kenya program. This relationship opened the Nuru Ethiopia Agriculture team's eyes to the possibility for such future opportunities in our own program. During a presentation by Nuru Kenya's Social Enterprises team, we learned about the potential for promoting Stevia (Stevia rebaudiana) as a cash crop that can generate more income for Nuru farmers and build a strong income-generating component to Nuru Kenya's program.
This has given the Nuru Ethiopia Agriculture team the inspiration to also consider innovative approaches in the future to explore alternative subsistence crops and cash crops. Already, we are having discussions about training agroforestry methods such as live fencing of nitrogen-fixing tree species and moringa (Moringa oleifera) for wind breaks, nutrition, animal fodder, fire wood, building materials, and timber for sale. We are also considering, as the program matures, working with social enterprises in Ethiopia to consider a variety of other cash crops.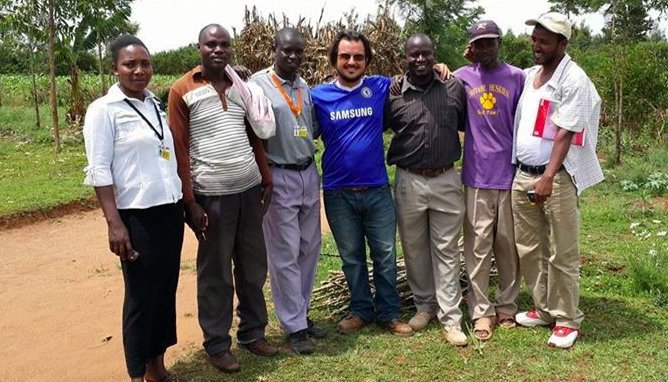 Avoid Monoculture
Even before we arrived in Kenya, the Nuru Ethiopia Agriculture team knew that monoculture was a huge weakness to be avoided. Indeed, during program design we identified monoculture as a threat to sustainability as a result of lessons learned in Kenya. But actually talking to the Nuru Kenyan staff was a great reinforcement as to why it is so important to avoid monocropping or the continuous cultivation of a suite of crops on the same piece of land. When asked about last years' maize season, much of the staff discussed with us how difficult and painful it was to see farmers fall victim to maize lethal necrosis disease (MLND) and how it took very drastic measures to get farmers back on the path to food security and economic stability.
The Nuru Kenya Agriculture program has responded to this issue in a very dynamic way, and it has reinforced much of the foundation that the Nuru Ethiopia Agriculture program was built on. In Kenya, maize has been supplemented with sorghum, millet, and even African bird's eye chilis (discussed above). In Ethiopia, we are beginning with a diversified agriculture loan package that includes maize, haricot beans, sweet potatoes, rice, and taro root. We are also training farmers on the multiplication of improved sweet potato vines that can be sold back to Nuru Ethiopia when we scale into new kebeles annually.
Make Sure that Loans Make Sense!
It wasn't because of any particular thing that we saw on our field visits in Kenya, but rather from a question asked during our agriculture presentation, that we came to the sudden realization that there was a glaring mistake in Nuru Ethiopia's agriculture model. Namely, the mistake was that a major part of our loan package was for a crop that has little to no market value and would inevitably plunge farmers and cooperatives into debt and disarray. Namely, that crop is an improved variety of orange-fleshed sweet potatoes.
Sweet potatoes, though, are a vital crop for food security in much of Ethiopia. The variety being cultivated and consumed in Boreda woreda[2], however, is seriously lacking in nutritional value and performance compared to other improved varieties. So our goal had to change from relying on introducing these improved varieties as income-generating crops to introducing them as valuable sources of nutrition and food security. Instead of giving out massive loans for large acreages of improved sweet potatoes, we are now giving a small amount of vines (100, to be exact) that can be expanded through multiplication and slowly incorporated into the local diet. Unlike maize seed and haricot beans, farmers can generate a multitude of vines through multiplying vines in small nursery beds. One sweet potato vine can produce 10-15 new sweet potato vines. So if we give 100 vines on loan to a farmer, they can multiply 25 and plant 75 within their farm. The 25 multiplied vines can then produce at least 250 new vines that can then be bought and sold to kebeles we are scaling into. Meanwhile, farmers will slowly be incorporating this new variety of sweet potatoes into their diet and becoming stronger and healthier. This takes a huge burden off the farmer, off of the cooperatives, and off of Nuru Ethiopia and Nuru International. This lesson alone will save us far more money than it cost for us to take the trip to Kenya!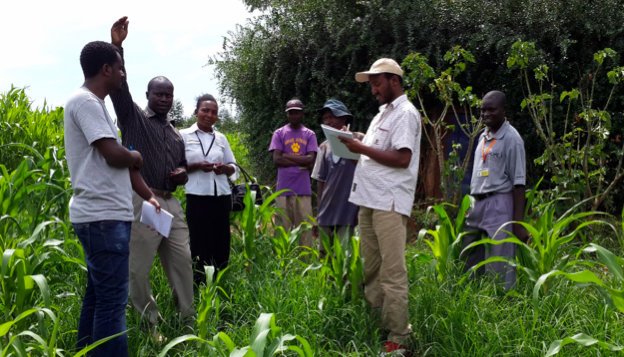 Build a Staffing Model that Decentralizes, Empowers, and Guarantees Self-Reliance
Nuru Kenya and Nuru Ethiopia have vastly different titles for similar positions. For example, a Field Manager in Kenya is what we call a Field Officer in Ethiopia. A Field Officer in Kenya is what we call a Community Animator in Ethiopia. Finally, a Chairman in Kenya is what we call a Group leader in Ethiopia. All of these similar roles have almost identical responsibilities, but their titles are what differ. This is mostly due to cultural perceptions of roles and the names that are given to them. These names are packed with meaning, but the way that they are organized and deployed is very important, and the lessons that the Nuru Ethiopia Agriculture team learned about how these individuals are positioned in Kenya are invaluable.
A key takeaway from Nuru Ethiopia's visit to Kenya is that the more that we can decentralize responsibility the better. This builds strong leaders within communities who can continue to operate at high capacity without depending on staff at higher levels. For example, instead of a Field Officer (in Ethiopia) monitoring repayments and agronomic practices among farmers in a kebele[3], a group leader could do the same in his or her group of farmers and present performance reviews and payments to the Community Animator. The Community Animator, in turn, could present the performance of the various groups in the kebele to the Field Officer, who is ultimately responsible for the impact that the program has in the kebele. Both Community Animators and Group leaders can use their farms as keystone demonstration plots throughout the kebeles to be examples for the other farmers in their groups and the wider community. This was an idea that hadn't occurred to us prior to our visit, but is now a engine of the Nuru Ethiopia Agriculture program's staffing model.
Summary: Key Lessons from Nuru Kenya and Building a Sustainable Agriculture Program in Ethiopia
Nuru Ethiopia's visit to the Kenya project ensured the evolving program development of Nuru Ethiopia's Agriculture Program. Even though we have finished our Program Planning Process[4], one of the commitments we made when identifying the strengths and weaknesses of a good agriculture intervention was flexibility. This includes the willingness to reexamine program design and adapt to changing circumstances. Nuru Kenya is a great example of this adaptability process, and through learning about Nuru Kenya's adaptations and the circumstances that produced them, Nuru Ethiopia is on the path to embrace opportunities and recognize constraints and obstacles.
---
[1] "Farm" in Swahili
[2] A woreda is similar to a "District" and includes numerous kebeles. At the moment, Nuru Ethiopia is working in only one woreda. 
[3] A kebele is the smallest administrative unit in Ethiopia, similar to a "village" in a "District."
[4] The Program Planning Process (PPP) was an intensive 7-month co-creation process between Nuru International and Nuru Ethiopia to identify the needs in local communities, the strengths and agro-ecological context of local communities, and to design an agricultural program that is impactful, sustainable, and scalable.
About Douglas La Rose
Agriculture Program Specialist — Douglas is an anthropologist and agriculturalist who has been working in rural Africa since 2005. He received his MA in Applied Anthropology from San Diego State University in 2011 after conducting an extensive quantitative and qualitative research project on agricultural adaptations to environmental change in the Volta Region of Ghana. Douglas has extensive experience in agriculture, having managed an agroforestry project in Ghana that focuses on sustainable cocoa, plantain, banana, and palm nut production.
Read More Stories of Hope