Nuru Kenya Social Marketing Team Combats MLND
Over the past few months, the Social Marketing team has been busy developing messages and awareness materials to help fight against maize lethal necrosis disease (MLND). MLND is a devastating maize disease that is a huge threat to the livelihoods and food security of farmers in Kenya.
The team began by holding focus group discussions with key informant farmer groups that assessed the barriers and benefits of the behaviours necessary to combat MLND. Awareness, prevention and early identification are key to preventing total crop destruction. From these discussions, the team decided on a dual messaging strategy that focused on working together to protect the community from MLND and a good vs. bad farmer theme.
Introducing Boke Bingwa (Boke the champion) and Mwita Mzembe (lazy Mwita)!  It rhymes a bit better in Kiswahili, but you get the idea!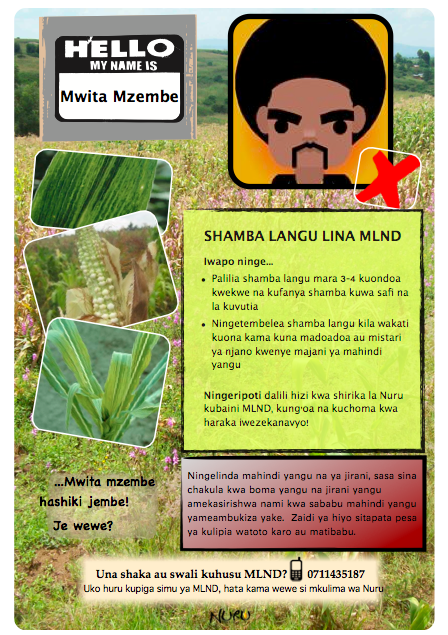 These eye catching, informative materials aim to spread important messages through the farming community. The Social Marketing Team trained the Agriculture Team on good external messaging practices, and together they have attended a large number of events in Kuria West over the past month.
Reports from community events have been extremely positive. Farmers who are not currently Nuru farmers have said that they will sign up next season because they are so impressed by how Nuru is raising awareness in the community. Local Chiefs have commended the work of the Social Marketing team which has also been a valuable part of strengthening Nuru's partnership with local leaders.
The MLND hotline has already received several phone calls from concerned farmers and sadly, the first cases of MLND have been confirmed in Kuria West.
Social Marketing's partnership with Agriculture has shown the significant strength of Nuru's integrated program model. The Agriculture team didn't have to outsource expertise to develop an awareness campaign about MLND – they just had to walk down the hallway to the Social Marketing office and meet with their colleagues.
About Claire Rumpsa
Read More Stories of Hope