Nuru Ethiopia Belg Season Planting in Photos: May 2014
The Nuru Ethiopia Agriculture Team is excited to share an update of the 2014 belg season planting through photographs. Nuru Ethiopia farmers have seen amazing growth and progress since starting to plant in March and April. As these farmers continue to diligently work their land, we will share their results. 

Taken in Dubana Bullo kebele, this picture shows the difference between a non-Nuru farmer (left) and a Nuru farmer (right). Even though the farmer on the left used fertilizer, their agronomic practices are resulting in lower plant density that will lead to lower yields.
The Nuru Ethiopia Agriculture team celebrates the initial successes of our program two weeks into the rainy season. This farmer in Hambisa kebele says his partnership with Nuru Ethiopia and the Hambisa Agriculture Cooperative has resulted in a "transformation" of his food security and economic situation.
This half-hectare plot in Hambisa has been planted using the maize-bean intercropping techniques taught by the Nuru Ethiopia Agriculture team.
Banchyrga Beyene, a Nuru Ethiopia Field Officer, talks to a farmer in Hambisa kebele about maintaining the growth of the beans that our intercropped with his maize. By pruning and guiding the vines of the beans, farmers can avoid maize being negatively impacted by them.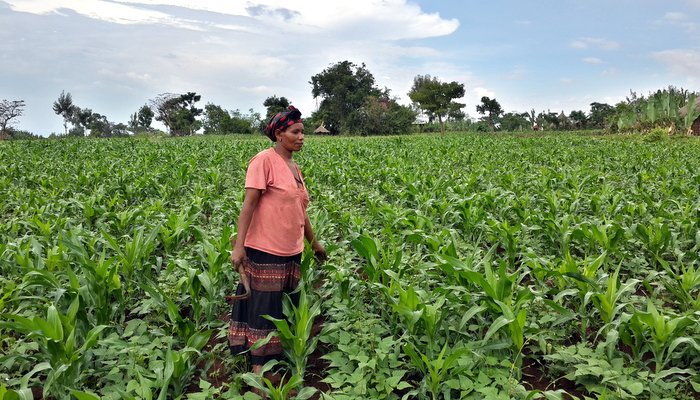 "My future has never looked so good," commented this farmer in Hambisa kebele. "Last year this field was sparsely covered with weak maize stalks and this year I am looking forward to a harvest of maize and beans that will be four times bigger than last year's." By adopting Nuru Ethiopia's best agronomic practice trainings, farmers are transforming their lives and the lives of their families.
About Douglas La Rose
Agriculture Program Specialist — Douglas is an anthropologist and agriculturalist who has been working in rural Africa since 2005. He received his MA in Applied Anthropology from San Diego State University in 2011 after conducting an extensive quantitative and qualitative research project on agricultural adaptations to environmental change in the Volta Region of Ghana. Douglas has extensive experience in agriculture, having managed an agroforestry project in Ghana that focuses on sustainable cocoa, plantain, banana, and palm nut production.
Read More Stories of Hope