Nuru Ethiopia Belg Season Planting in Photos: March – April 2014
The Nuru Ethiopia Agriculture Team is excited to share the beginnings of the 2014 belg season planting through photographs. As these farmers continue to diligently work their land, we will share their progress.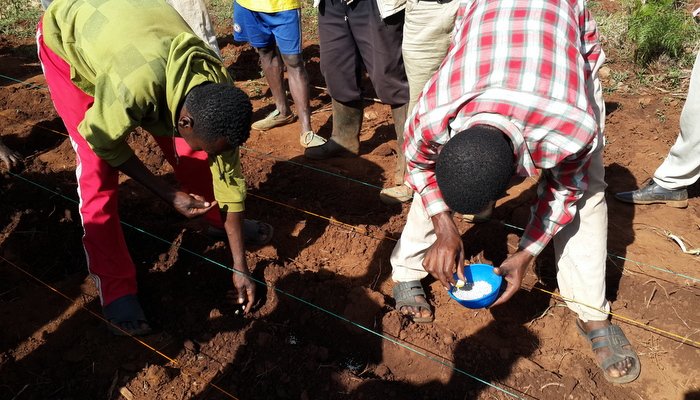 Farmers in Hambisa kebele learn about group work and the correct spacing for intercropped maize and beans. By working together in groups and using sustainable agricultural practices, Nuru Ethiopia farmers are strengthening their food security and economic base.
Banchyrga Bayene, a Nuru Ethopia Agriculture Field Officer, praises two farmers in Dubana Bullo for their successful adoption of best agronomic practices. By farming using Nuru's methods, farmers can expect to double their maize and bean yields.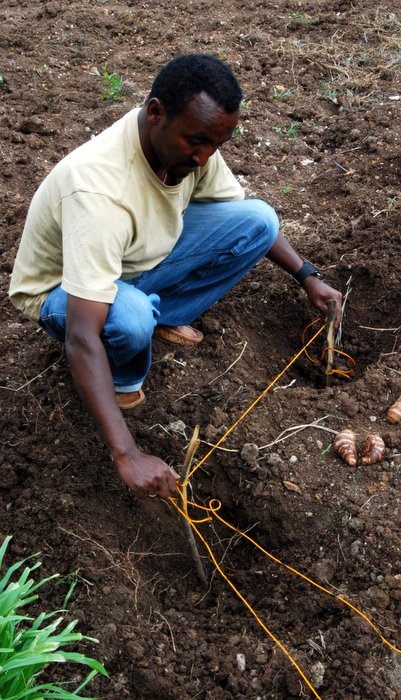 Nigussie Wasihun, the Nuru Ethiopia Innovations Manager, demonstrates how to plant an improved variety of taro. By planting improved varieties of taro using correct spacing, Nuru Ethiopia's Agriculture Program is promoting food security for the most vulnerable farmers. Taro is a staple crop for marginalized farmers with the most difficult soil types in the region.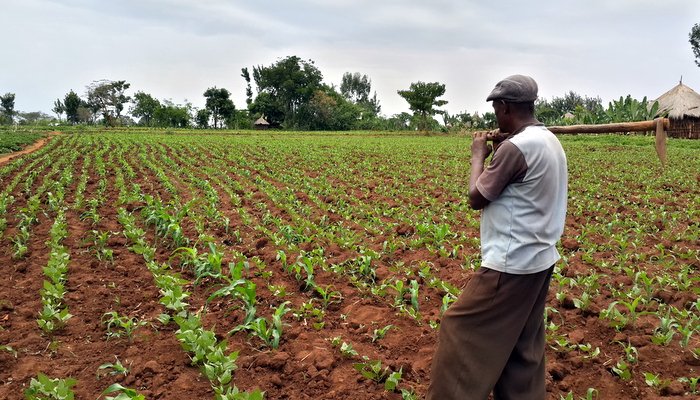 "I have never felt so good about a planting season before!" A Nuru farmer reflects confidently on his half hectare of land carefully intercropped with maize and beans.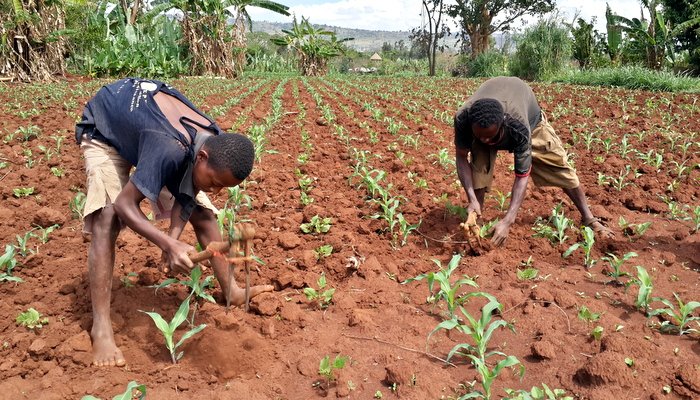 Farmers work in groups to break up soil around recently planted maize and beans. These farmers work in one of the poorest parts of Dubana Bullo but are enthusiastic about the prospect of increasing their yields through the adoption of best practices.
About Douglas La Rose
Agriculture Program Specialist — Douglas is an anthropologist and agriculturalist who has been working in rural Africa since 2005. He received his MA in Applied Anthropology from San Diego State University in 2011 after conducting an extensive quantitative and qualitative research project on agricultural adaptations to environmental change in the Volta Region of Ghana. Douglas has extensive experience in agriculture, having managed an agroforestry project in Ghana that focuses on sustainable cocoa, plantain, banana, and palm nut production.
Read More Stories of Hope