Bountiful Bean Harvest: Mama Hellen's Story
Nuru works with farmers in groups. Mama Hellen was elected to lead her group, Isebania Umoja. To provide for her family all year round and educate her children, she relies on farming with Nuru Kenya's Agriculture Program.
Mama Hellen Boke Monanka is a hard working farmer in Kuria, southwest Kenya. At 43, she's married and a mother to six. She and her husband Joseph rely solely on the food they produce, farming over four acres of land in Isebania village. In 2009, Nuru Kenya began operating in the sub-location where Mama Hellen lives. As soon as she heard that Nuru was offering planting trainings and fertilizer on credit, she attended base education and decided to join.
Mama Hellen previously used a broadcast technique to plant all the crops she grew every season on her land. She would plant maize, beans, cassava, millet and other vegetables without paying any attention to what went where or how close one seed sat to another. "I didn't know how to space seeds or rotate my crops," she says. "Very often, I didn't use fertilizer because I did not know its importance and it was too expensive as people said, especially on beans. Most times I would plant without it." However, when Mama Hellen enrolled as a Nuru farmer in 2010 season, she embraced the new methods of maize line planting and application of fertilizer – and realized a huge yield on her farm.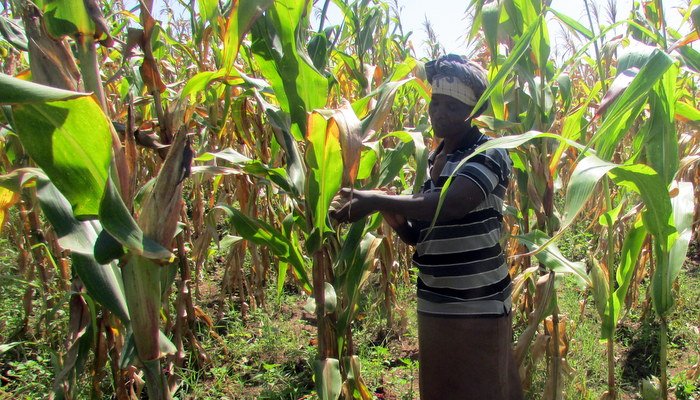 It was not until 2014 when Kenyan farmers experienced unreliable rains, Maize Lethal Necrosis Disease and drought that led to Nuru Kenya's Agriculture Program revising the crop package given to Nuru farmers. Mama Hellen and her group members embraced crop diversification and realized they stood to gain if they intensively planted several crops. The 2015 diversified crop package included maize and sorghum or millet. Beans were offered as an optional additional loan to a number of farmers.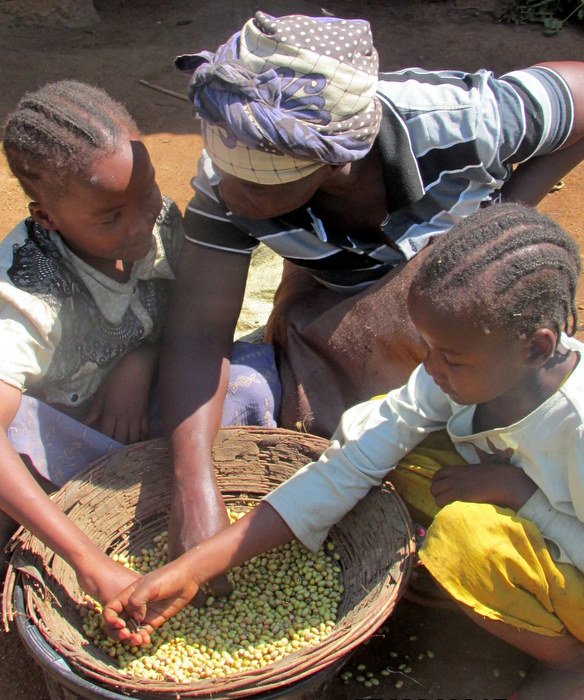 Mama Hellen planted 1-¼ acre of beans intercropped with maize. She doubled her previous bean harvest with over half a metric ton (525 kg) of beans from the 1-¼ acre planted. Previously she had not harvested more than 220 kg in her best year when broadcasting seed on an acre of land. The KAT B1 variety provided by Nuru Kenya, she confirms, had good germination and flowered well. She also harvested over half a ton (540 kg) of finger millet on a half an acre, in addition to her harvest of beans.
"These yields were the result of changing my planting methods and using fertilizer correctly," Mama Hellen says. "The Nuru Kenya Field Officer taught me how to plant in rows and how to apply the same small dose of fertilizer to each crop. It's not easy to take care of children and educate them in high school, but Nuru Kenya is making it possible. I am now feeding my children, buying them clothes and paying their school fees."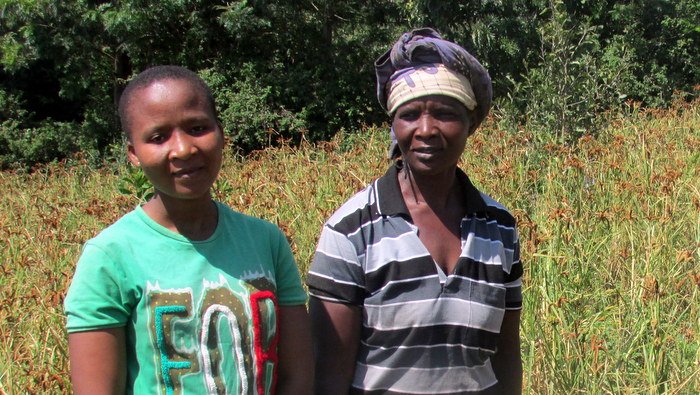 Mama Hellen plans to plant beans on a pure stand next year to compare harvest with an intercropped method. If she succeeds in increasing her harvest next year, she plans to invest in more land to farm."My plan for this year is to store enough food until the next season and sell my additional harvest to pay school fees for my children next year," Mama Hellen says, smiling at the thought of bountiful harvests to come.
About Tom Nyongesa Juma
Nuru Kenya Agriculture Program Manager — Tom joined Nuru Kenya in May 2012 as the Agriculture Program District Manager. Previously, he worked on the System (HDSS- Webuye) VLIR Belgium Project as a Field Supervisor for Health Demographic Surveillance for four years. He also served as a Field Officer for Innovation for Poverty Action (IPA). Tom graduated with his BS in Forestry and Masters in Soil Science from MOI University. His professional accomplishments include conducting a soil survey for the entire Kuria West District and earning certification in project management and monitoring and evaluation. Tom is passionate about helping farmers in poverty improve their farming systems.
Read More Stories of Hope