Our development model is holistic, sustainable and scalable.
Exit Strategy
We begin each project with an exit strategy and clearly defined exit criteria. Our goal is to go in, help build local organizations to create effective solutions that create sustainable, scalable impact, and then hand over operations to local leaders.
Holistic
Nuru equips local leaders with tools and knowledge to lead their communities out of extreme poverty and build resilience by integrating programs that address some of the most prevalent and fundamental challenges of extreme poverty around the following areas of need:
Hunger
Lack of Livelihood and Income
Inability to Cope with Financial Shocks
Preventable Disease and Death
Rather than give handouts, we design training-based poverty solutions that promote self-reliance and service-mindedness to enable local leaders to continue scaling impact long after Nuru International staff has exited the project. To learn how local leaders address these needs, see below:
By addressing all needs in an integrated way, an individual is not only able to choose to improve his or her own well-being and to climb out of the poverty trap, but also avoids falling back into poverty.
Sustainable
Our work is sustainable by design. Our Leadership Program focuses on restoring agency in local leaders and on building the opportunity structure necessary to sustain and scale programs. To accomplish this, we've developed a process of co-creation that encourages critical thinking, feedback, and debate that equips local staff to fully operate all programs without dependency on any expat staff. For a complete overview of our leadership philosophy, methodology, process, curriculum, monitoring and evaluation, download the Nuru Leadership Program Manual.
Environmental sustainability is vital to our long-term success, and we deploy best practices that maximize the yield of the farmland while minimizing negative impact. Tree planting projects offset Nuru's carbon footprint and have a large positive impact on the environment.
Nuru establishes and capitalizes local farmer organizations that reach profitability after a few years and guarantee the financial sustainability of the programs. Member farmers own shares and benefit directly from the financial successes of their farmer organization.
Monitoring & Evaluation
Our dedicated in-house Monitoring & Evaluation (M&E) team monitors progress toward impact of all of Nuru programs in partnership with the University of Texas at Austin's Ray Marshall Center for the Study of Human Resources. The NI M&E team trains and equips a counterpart local M&E team to carry on these critical functions after international staff exit.
Innovation
Nuru International was birthed out of Silicon Valley and the innovation engine of Stanford University. Whether we're co-creating a new program with local leaders or deciding on the location of our next country project, the process of social innovation has been the guiding principle of our work.
In turn, we teach local leaders design-thinking because they too must innovate past challenges if they're going to lift their communities out of extreme poverty forever. Our methodology is based upon the Human-Centered Design Toolkit from IDEO. The toolkit is designed to "help international staff and volunteers understand a community's needs in new ways, find innovative solutions to meet those needs, and deliver solutions with financial sustainability in mind."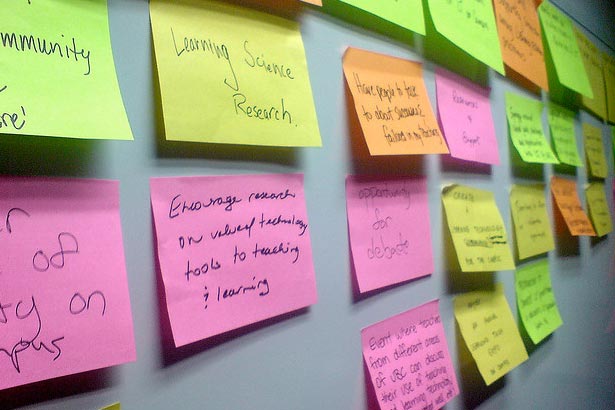 A design-thinking brainstorm.
"Holistic development remains the elusive holy grail of the social sector. We've looked long and hard for a way to have promising models for health, livelihoods, and education play out in the same place at the same time: we think that Nuru has one of the most promising approaches we've seen."
Kevin Starr, MD Mulago Foundation
Watch Videos About The Nuru Model
We didn't start the fight against extreme poverty.
We acknowledge that we're standing on the shoulders of giants. Nobel laureates, Fortune 500 companies, powerful governments, multilateral institutions, and thousands of humanitarian nonprofit organizations have all gone before us in the fight against extreme poverty. History is our teacher, and we've taken all the best ideas to build toolkits for local leaders to implement or adapt.
We don't have it all figured out, and we're not afraid to admit that we fail from time to time–but that is the very process of innovation. By continuing to innovate, we learn from our mistakes and get better, eventually ending extreme poverty in remote, rural areas in our lifetime.
Nuru thanks each of these organizations and movements for their significant contribution to international development and for the way they have influenced our approach, philosophy, and model.